Live blog: Cash bail ends in McLean County and across Illinois
The latest from the WGLT Newsroom, reporting daily from the McLean County Law and Justice Center and elsewhere as the end of cash bail finally arrives. The Pretrial Fairness Act provision of the SAFE-T Act criminal justice reform takes effect Monday.
Wrapping up Wednesday's bond court hearing
Link Copied
Wednesday's bond court lasted about two hours, with five criminal cases handled. The judge released three individuals and detained two. In each case, the state and defense agreed on whether the defendants were eligible for detention but some argument took place on the conditions for release.
The judge noted in each case where the state did not seek detention that the court had no discretion to keep the person in jail.
Public defender says prosecutors failed to show 'clear and convincing evidence' to hold felony defendant
Link Copied
How much specific information the state must offer in arguments to hold a person in jail was debated Wednesday by lawyers in the multicount felony case against Carlos Warrack.
Public defender Matthew Koetters argued that prosecutor Don Rood failed to articulate the "clear and convincing evidence" required by the new law to show Warrack is a threat to public safety.
"These petitions should contain facts, not just the conclusatory statement that there are facts," said Koetters.
Warrick is charged with being an armed habitual criminal, possession of a weapon and ammunition by a felon and unlawful use of a weapon.
According to the prosecutor's statement, police found a loaded handgun on the defendant after he ran from police during a traffic stop involving a car in which he was a passenger.
Kording ordered Warrack held until his trial, finding that the defendant posed a threat to the community based on his previous record and the allegations in the gun case.
Defendant accused of punching cops is released, but with conditions
Link Copied
A man accused of leaving a dead bird on a woman's porch in Chenoa before punching two police officers in the face during his arrest was released on conditions, including no contact with the woman.
Frank Buffone faces six aggravated battery counts — none detainable under the new no-cash bail rules. A prosecutor said he had concerns about Buffone's release from jail but acknowledged the charges do not qualify for a petition by the state to hold the defendant.
Misdemeanor suspect released on personal recognizance bond
Link Copied
A 29-year old man charged with five misdemeanors accusing him of trespassing was released on a personal recognizance bond Wednesday, on the second day of bond court under the state's no-cash bond rules. Six custodies are set for Wednesday afternoon's hearing.
In releasing Mykale Davis on several conditions, Associate Judge Scott Kording ruled that the offenses are not detainable under the new bond law. A previous judge had set a $5,000 bond, meaning Davis was jailed in lieu of posting $500.
No cases heard in McLean County on Day 2 of bond court
Link Copied
The McLean County State's Attorneys office opted Tuesday to delay bond hearings for two individuals charged under Illinois' new no-cash bond law.
The cases involve allegations of aggravated battery of a police officer and domestic battery. The state has 48 hours to bring a person to court for a bond hearing.
The quiet courtroom is in contrast to the packed room on Monday for the first bond hearing since the state eliminated money as a condition of release. Six cases were handled during the two-hour session that was watched by judges, lawyers, court services staff and media.
One defendant, a 24-year old man, was detained Monday after Associate Judge Scott Kording agreed with a prosecutor's assessment that he posed a risk to public safety if released on weapons charges.
Coalition to End Money Bond celebrates Day 1
Link Copied
Updated
September 19, 2023 at 6:08 AM CDT
Posted
September 19, 2023 at 9:08 AM CDT
Illinois courts take first slow steps into world without cash bail
Link Copied
Illinois' first day without cash bail got off to a slow start outside the Chicago metro area on Monday, with at least one county still using the old system for pretrial decision making. In Chicago and its suburbs, court proceedings took much longer than before, but the new process ran relatively smoothly
For more than two years, Illinois has been preparing for — and battling over — the end of cash bail, a change that makes Illinois the first state in the U.S. to take money out of pretrial decisions on detainment and release. On Monday, the new regime got underway.
The day started with an early morning press conference in front of the main Cook County criminal courthouse, with supporters of the massive change looking forward to the new system.
"Today, we end an antiquated and unjust system that has disproportionately harmed our communities of color and the poor," Illinois House Speaker Emanuel "Chris" Welch said in front of the Leighton Criminal Court Building on Monday. "Today, we are one step closer to a detention system that puts victims first. Today, Illinois is no longer criminalizing poverty, and the entire nation has their eyes on us."
Prosecutors' first petition to detain
Link Copied
In McLean County's first hearing on a state petition to detain, the judge ruled that the defendant would be held on gun charges. The state successfully argued that the 24-year-old accused of possessing a gun as a felon posed a risk to public safety.
The hearing closed the two-hour bond court where six cases were considered.
Defendant caught up in question over timing
Link Copied
The judge and lawyers in court this afternoon are sorting out whether a man arrested on gun charges on Saturday and charged today is eligible for detention.
The defense believes the former rules apply and a cash bond could be set.
Drug defendant will stay in jail
Link Copied
A man facing Class X felony drug charges will stay in jail on the $100,000 bond set before no-cash bail went into effect.
The defendant missed a Sept. 8 court date because he was in prison on another case. He was arrested after he was paroled Sept. 15 in Chicago.
Defendant with multiple warrants will stay in jail on traffic case
Link Copied
A man charged in a traffic case who failed to appear in court on a $5,000 bond set before the new rules took effect will stay in jail, Associate Judge Scott Kording ordered today.
The state requested detention, based on the defendant's three warrants in the past three months.
An expedited hearing is set for Thursday to review the case.
Courtroom is packed for first bond hearing under Pretrial Fairness Act
Link Copied
The courtroom and jury box are packed for this afternoon's hearing. Four judges, the state's attorney and public defender are among those watching.
The first defendant to appear this afternoon was released on conditions after the state declined to seek detention on domestic battery and criminal trespass to a residence charges.
Bond court about to begin in McLean County
Link Copied
Three weekend custody cases are the first cases scheduled for the debut of no-cash bail in McLean County bond court.
Attorneys for that state and defense are conferring on their last-minute questions before the hearing begins.
Lawyers, court clerks and court services staff are in the courtroom to watch and take notes on opening day.
WGLT's veteran criminal justice reporter Edith Brady-Lunny is there and monitoring what's happening.
Downstate leaders say they will need help handling the historic end to cash bail
Link Copied
County leaders in rural parts of Illinois are approaching next week's historic end to cash bail with trepidation, worried they won't have the resources or staffing to meet the demands of the new system. They're also fearful about what holding fewer people in jail pretrial will mean for public safety in their communities.
On Monday, Illinois will officially become the first state in the U.S. to completely eliminate the cash bail system. This means judges will no longer be allowed to hold people in jail pretrial unless they are charged with specific, serious felonies and pose a safety or a flight risk.
The move has been fiercely debated for more than two years. It's been hailed as a landmark step toward criminal justice reform by activists and Democratic state officials, challenged as unconstitutional by dozens of prosecutors and subject to a misinformation campaign during the last midterm elections.
Some county officials in central Illinois aren't sure if the change is going to work.
"Our state might as well be in two different countries," Cass County Sheriff Devron Ohrn said. "I think this would have been a great [law], if this is what Cook County wants. But don't do it down here. The views and the needs of the people here are so much more different."
Advocates plan to use bail reform to protect victims of domestic, sexual violence
Link Copied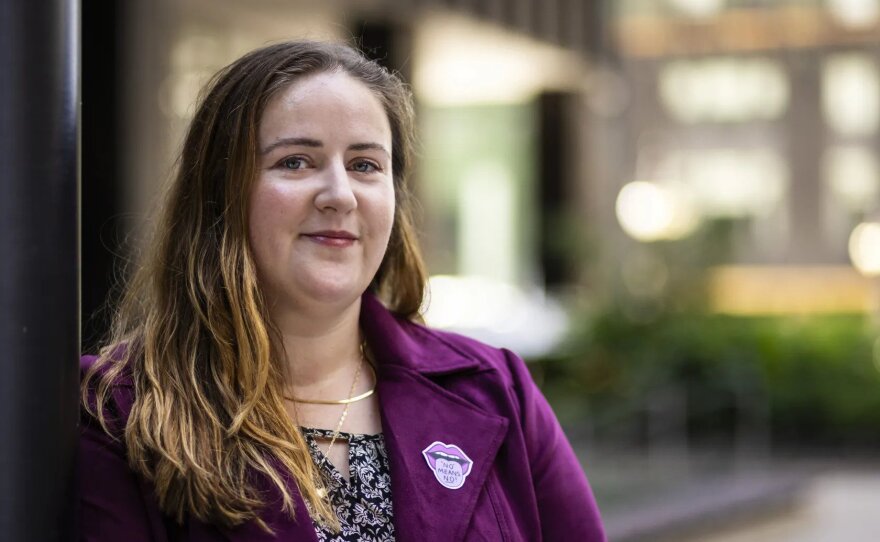 Advocates say the bail reform that takes effect Monday should make victims of domestic and sexual violence safer — if prosecutors and judges take full advantage of the law.
Under the Pretrial Fairness Act, judges no longer will be able to require people to post money in order to be released ahead of trial. But the law allows people to be jailed, possibly until their trial, if they are charged with violent crimes like sexual assault and domestic attacks.
"This prioritizes risk over money," said Christine Raffaele of the Illinois Coalition Against Domestic Violence. "Money never made anybody safe."
Bail hearings sometimes last just minutes as judges typically have a long call sheet of cases before them. It is not uncommon for someone to appear in a domestic violence case after that person was released from jail for a previous domestic charge.
Under the new law, people charged with domestic and sexual violence can be held for up to 48 hours before a court hearing must be held on whether they should be detained.
Advocates say that should allow time for the victim to speak with prosecutors or meet with a probation officer to help assess the risk of releasing the person who has been charged.