ISU Student Government Supports COVID-19 Vaccine Mandate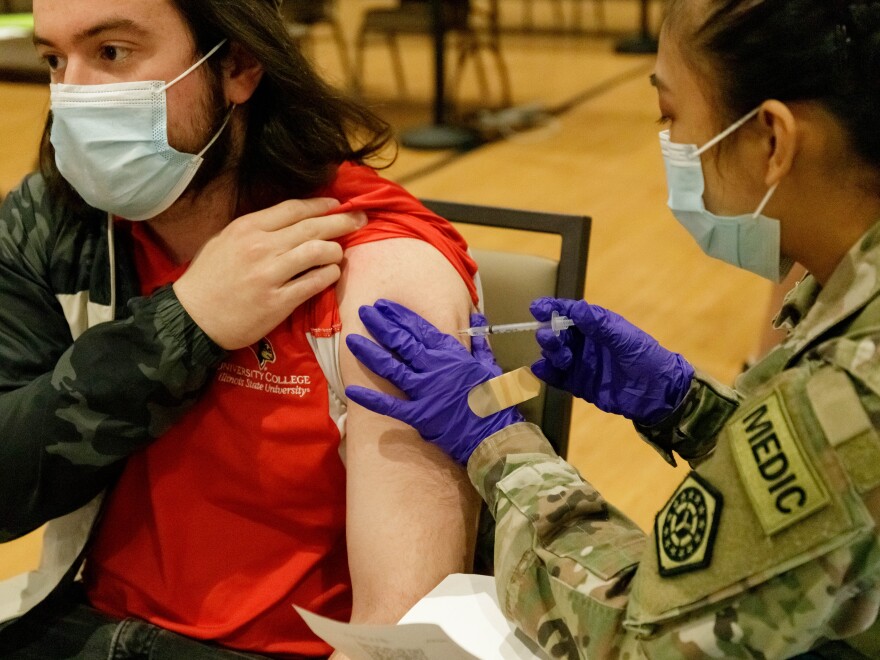 Illinois State University's student government has endorsed the idea of requiring students to be vaccinated for COVID-19 if they want to attend classes next fall.
With only one "no" vote, the Student Government Association recently endorsed the resolution in support of mandatory vaccination for those physically attending classes in the fall, said Grant Chassy, who wrote and sponsored the measure.
"I'm not just lecturing you about my vote," Chassy said at Wednesday night's Academic Senate meeting, where he gave an overview of the resolution. "This is the overwhelming view of the students, and the body we're all tasked to serve."
State law and university policy already requires all newly admitted and re-admitted students to provide proof of immunity for tetanus, diphtheria, pertussis, measles, mumps, rubella and meningitis.
Chassy said those precedents demonstrate the legality of establishing a COVID-19 vaccine requirement. (Current COVID-19 vaccines have been authorized by the Food and Drug Administration under an emergency use authorization, or EUA.)
"I think it's morally unconscionable that we allow any one additional infection when we could otherwise stop it with mitigations—the vaccine being just one of many proven to stop it," he said.
ISU President Larry Dietz said Wednesday that the state's higher education leaders are waiting on the Pritzker administration to make a decision on the issue. The preference, he said, would be for all state universities to require the vaccine, instead of universities setting policies individually.
"We've been urging the governor to take action on this. He and his legal team are considering this. So we would certainly welcome this," Dietz said.
As vaccines become more widely available, it's likely that many more colleges will add their own mandates. COVID-19 disrupted many parts of academic and student life at ISU during the 2020-21 academic year, including a major outbreak at the start of the fall term.
Another student, Kevin Phares, spoke at Wednesday's Academic Senate meeting in opposition to the SGA resolution. He said it was "morally reprehensible" to require the COVID vaccine.
"How we can preach diversity and ignore this diversity of thought?" Phares said. "I'm supportive of people making their own decisions, and I trust them to do what they see as best for themselves."