GLT stories about immigrants living in Bloomington-Normal.
Bloomington To Vote Monday On Immigration Ordinance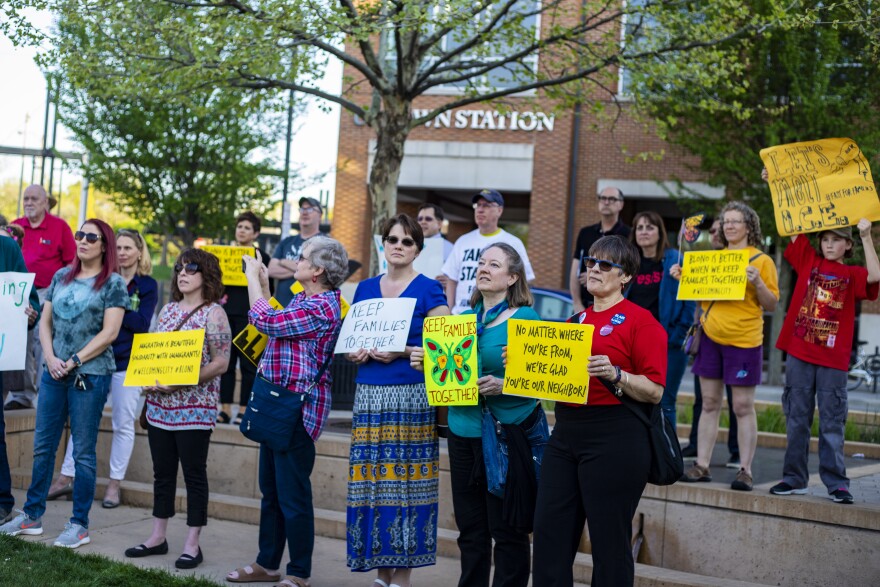 Bloomington Police would get an official reminder that their job is to enforce local and state laws—and not federal immigration law—under a proposed Welcoming City ordinance that aldermen will finally vote on Monday night.
The three-page ordinance is similar to the Welcoming Community ordinance approved by the Normal Town Council in May. Pro-immigrant activists have lobbied both city councils in recent months to pass the ordinances, arguing their urgency in light of the Trump administration's hardline stance on immigration.
Like the Normal ordinance, Bloomington's version says its officers will follow the state's 1-year-old Trust Act, designed to protect unauthorized immigrants from federal agents by limiting the role of state and local law enforcement. The ordinance would also codify that Bloomington Police "responds to criminal activity without regard to the citizenship status of those involved."
Like the Normal ordinance, Bloomington's would require officers to get approval from the police chief for any communications with federal Immigration and Customs Enforcement (ICE) agents beyond the information sharing about citizenship and immigration status that's required by federal law.
The measure's official name is "An Ordinance Recognizing the Importance of the Immigrant Community in the City of Bloomington."
"City staff believes the proposed ordinance is written in a way that does not violate any laws, that shows support for the immigrant community, that further encourages the reporting of crimes, and that will not interfere with or inhibit public safety," city staff wrote in a memo to aldermen.
It's unclear if there are enough votes to pass the ordinance on the Bloomington City Council. Aldermen were opposed to a previous version of the ordinance, banding together to stop a planned February discussion about it. Some aldermen raised questions about whether such an ordinance was necessary given the state's Trust Act. They also said it "casts unfavorable and unfair criticism on our outstanding police force, which is extremely unfortunate."
The ordinance will be discussed at a special meeting of the Bloomington City Council—called by Renner—at 5:30 p.m. Monday at City Hall.
People like you value experienced, knowledgeable and award-winning journalism that covers meaningful stories in Bloomington-Normal. To support more stories and interviews like this one, please consider making a contribution.