Bloomington Residents Voice Wants For Next Police Chief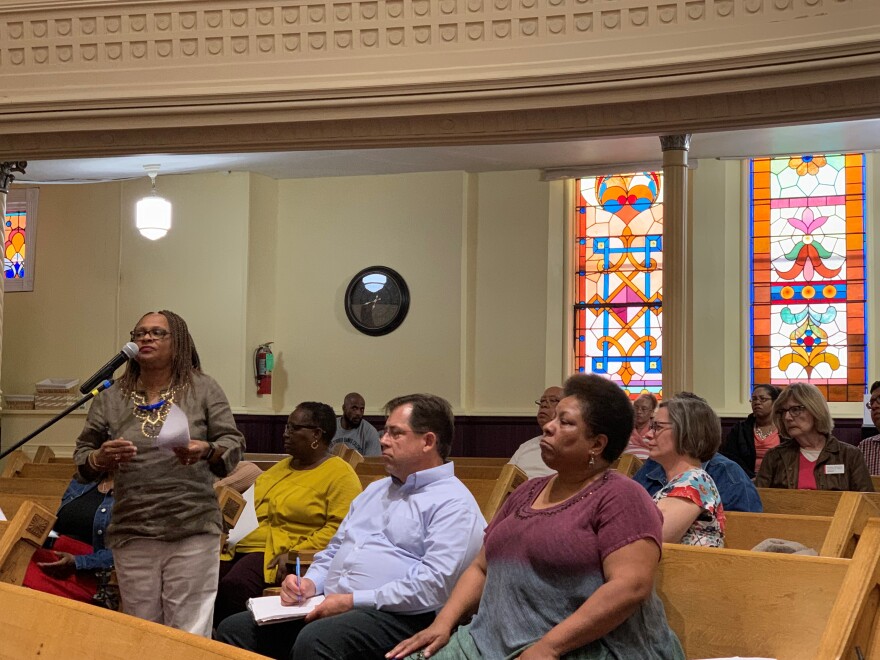 Bloomington's Public Safety and Community Relations Board provided the stage Wednesday for public input on the city's next police chief.
City Manager Tim Gleason tasked the board with gathering public input and funneling it to the city.
Community members from various activist groups as well as elected officials all gathered at City of Refuge on East Jefferson Street to listen and share what is on their police chief wish lists.
Camille Taylor from the Not in Our Town coalition said she participated in small-group discussions in years past when Bloomington was interviewing potential police chiefs.
From her past experience, she said, "I noticed there was a big difference between the local candidates and the candidates from out of town. And I think at this point, my personal preference, or what I would hope they would consider strongly, would be someone that is not local."
Taylor said someone coming in with no history in the community could be a plus. She also said broadening the lens could allow for someone with a background in mental health, working with the homeless, or coming from a "welcoming city" to step into the role.
Other community members expressed the opposite—wanting someone with knowledge of the dynamics in Bloomington.
Cinnamon Porter works with Black Lives Matter Bloomington-Normal. She said she wants a police chief that understands the hurt that law enforcement has historically caused minority communities.
"Because unfortunately those are the people that have the most interactions with the police daily," Porter said. "So I think they know best for what the people need."
She said she wants the next chief to know that the community is here to hold them accountable.
And she was not the only one voicing that sentiment.
Michael Herzog, a defense attorney in Bloomington, said the next police chief should be able to handle criticism from the public.
"By simply asking questions, even challenging the police, it doesn't mean we hate you. It doesn't mean we have a problem with you," Herzog said. "It means, 'Hey, hear us out. Listen to us.'"
He said the public questions law enforcement, first to understand, and second to call the officers to do better.
And it's creating a culture of "doing better" that Bloomington resident Georgene Chissell wants.
"We can go through all of the qualities and qualifications that we want for our police chief," said Chissell. "But if they don't trickle down to the officers, it will not make a difference."
She said she never experienced current Chief Clay Wheeler or former Chief Brendan Heffner being rude, but that doesn't mean every officer on the force displays those same qualities.
Chissell ran for Bloomington City Council in Ward 2 but lost to Donna Boelen, who was also in attendance at the PSCRB meeting.
But Boelen wasn't allowed to speak.
Actually, none of the six city council members could. With so many turning out for the discussion, the council actually had a quorum, meaning any comment would be a violation of the Open Meetings Act.
The city will continue to accept written and emailed feedback for the search for a new police chief. Emails can be sent to info@cityblm.org.
The process also includes a nationwide search, an internal interview panel, and a community meet-and-greet with finalists.
Wheeler retires on June 21. An interim police chief will likely be appointed until a hire is made.
People like you value experienced, knowledgeable and award-winning journalism that covers meaningful stories in Bloomington-Normal. To support more stories and interviews like this one, please consider making a contribution.