Bloomington Seeks To Lift Gambling Moratorium, Create Cannabis Plan
Bloomington City Council members support lifting the city's moratorium on video gambling licenses and want to start the discussion about how it will handle legalized marijuana, though members disagree about how best to gather input.
A majority of the council expressed support at its monthly Committee of the Whole meeting on Monday for allowing video gambling machines at 60 establishments. Fifty-two currently have them in the city.
Several council members, including Julie Emig, asked the $500 per-terminal fee be reduced for fraternal organizations and charities to $250.
"I think this document does represent a compromise that reasonably captures the views of many differing opinions," Emig said. "It's incremental progress but it's progress."
Tim Jones, owner of gambling machine vendor Midwest Electronics Gaming of Ellsworth, urged the council not to double the number of machines allowed at large truck stops from five to 10 if it's not willing to allow other establishments to reach the state's legal limit of six. The city currently allows five.
"I'm not saying you shouldn't give it to them, I'm saying you should be fair, and everyone should have a fair shot at it," Jones told the council.
Tom Hubbard, owner of Cheeks Bar and Grill, said the city is hurting its own tax base by giving the truck stops a competitive advantage because they send their gambling proceeds back to their corporate offices.
"The big check goes to some corporation goes out of town, where as my big check comes to me and I reinvest it right here in town, by hiring people."
The proposal City Manager Tim Gleason discussed would also raise the per-terminal fee for gambling machines at large truck stops to $1,500, though he said only two meet the state's requirement of 50,000 gallons per month of fuel sales to be classified at a large truck stop.
Council member Jenn Carrillo said she also wants to see the city provide gambling addiction treatment. Gleason said he plans to explore partnerships with local social service agencies that could provide assistance.
Loreta Jent, McLean County president of the Woman's Christian Temperance Union, urged the council not to expand gambling as a way to raise revenue.
"It's a known fact that people that can afford to gamble the least are the ones that are more tempted to gamble," Jent said. "That's depending on the weaknesses of others for our finances.
"I think we are better people than that."
The council will consider a formal proposal next week.
Cannabis Task Force
Carrillo got a lukewarm response from her colleagues to her request to establish a task force to examine how the city should foster a marijuana industry when its recreational use becomes legal next year. She noted the Town of Normal has already started its own discussion.
"I'd much rather get this right than be the first to do it and for me, getting it right means putting people around the table," Carrillo said.
Carrillo wants council members to join residents, police and other stakeholders to weigh in on the discussion.
She made clear, however, she believes the city should embrace the cannabis industry for tourism and to "repair past harm, particularly to communities of color by a failed war on drugs."
"I'm personally of the opinion that there's great opportunity and us positioning ourselves to be a cannabis-permissive community," she said. "I think it has the potential to attract tourists and visitors to our downtown and to raise revenue for projects that will benefit our entire community."
Several council members, including Kim Bray, says she'd prefer the council rely on input from constituents.
"For me I would see it as abdicating my responsibility as an alderman for Ward 9 to not interact with my constituents and get the information that I need from them in order to come to the table and share with you," Bray said.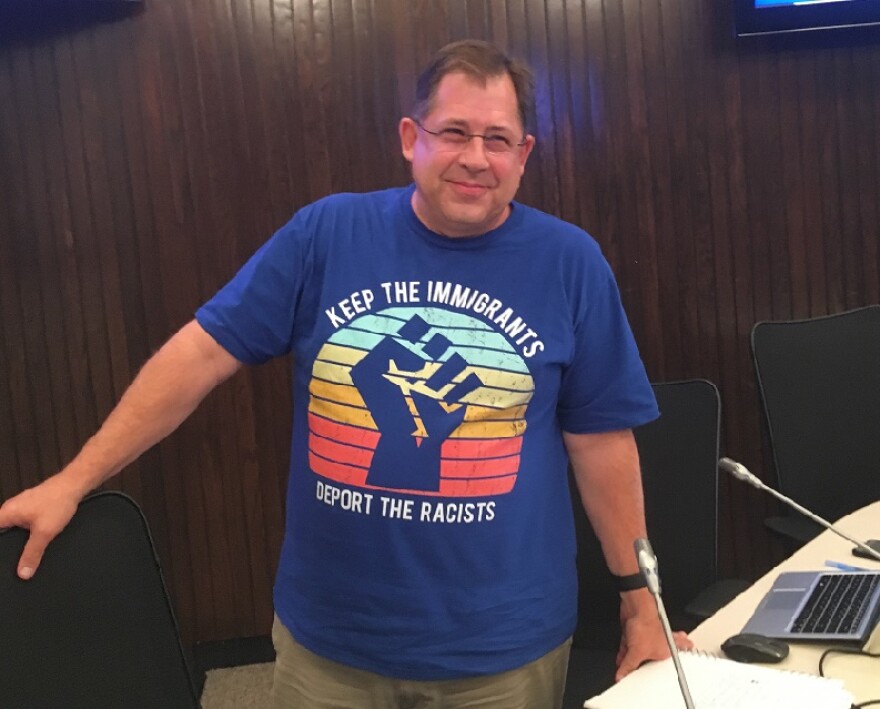 Council member Jamie Mathy asked if the task force can move quickly enough so the city can have a plan by the end of September so it can start attracting marijuana business.
Immigration Shirt
Council member Jeff Crabill got some attention for a T-shirt he was wearing to the meeting. It read "Keep the immigrants, deport the racists."
Two public commenters at the meeting said the shirt was offensive. Asked by reporters after the meeting, Crabill wouldn't say if he was trying to make a statement. He said he was "just wearing a shirt."
WGLT depends on financial support from users to bring you stories and interviews like this one. As someone who values experienced, knowledgeable, and award-winning journalists covering meaningful stories in Central Illinois, please consider making a contribution.