WGLT's reporting on the coronavirus pandemic, which began in McLean County in March 2020.
LaHood Doesn't Want Stimulus Bill To Mirror '08 Bailout
U.S. Rep. Darin LaHood, R-Peoria, said he's still reading the 800-page relief bill which the Senate passed late Wednesday and the House will consider soon.
The Peoria Republican said he hasn't decided how he will vote, but he said there are things in the $2 trillion coronavirus-related bill that don't belong.
"I have concerns, it looks like there is $25 million in there for the Kennedy Center. We may love the Kennedy Center, but that has nothing to do with health care, that has nothing to do with the coronavirus," LaHood exclaimed. "There's many organizations in my district whether it's Bloomington-Normal or Springfield and Peoria that aren't getting $25 million for their civic center."
LaHood also said he wants assurances the $500 billion "Exchange Stabilization Fund" aimed to help distressed industries in the bill will have proper oversight, unlike the bank bailout of 2008.
"This should not be a bailout to large corporations that have done well over the last three or four years while the economy has done well," LaHood said.
LaHood was first elected to Congress in 2015.
The richest stimulus package in U.S. history also includes direct payments of up to $1,200 per person, totaling about $500 billion; $375 billion for small business loans; and about $140 billion for health care providers to offset their costs as they respond to the pandemic.
LaHood said he expects a vote either late Thursday or Friday. The House could call its members back to Washington or vote by unanimous consent.
COVID-19 Testing
Many health care providers and in some cases, parents of sick children, have expressed frustration over the difficulty of getting tested for the coronavirus, but LaHood said the federal government has satisfied the need for testing kits and supplies "to the best of our ability."
"I'm satisfied with the PPEs we have currently, the masks, the gowns, the gloves, the testing kits that are there now," LaHood said. "We'll see if we have a spike or something happens."
LaHood added the federal government has delivered $24 million to Illinois over the last 10 days to bolster its coronavirus response and that Illinois is rapidly coming up to speed in testing.
"We need to listen to the medical personnel, the doctors, the people that are on the front lines, and we need to do a little better job that with," LaHood conceded. "I think we are gradually getting up to speed with a little more (testing) kits and particularly for our medical personnel in making sure they are tested."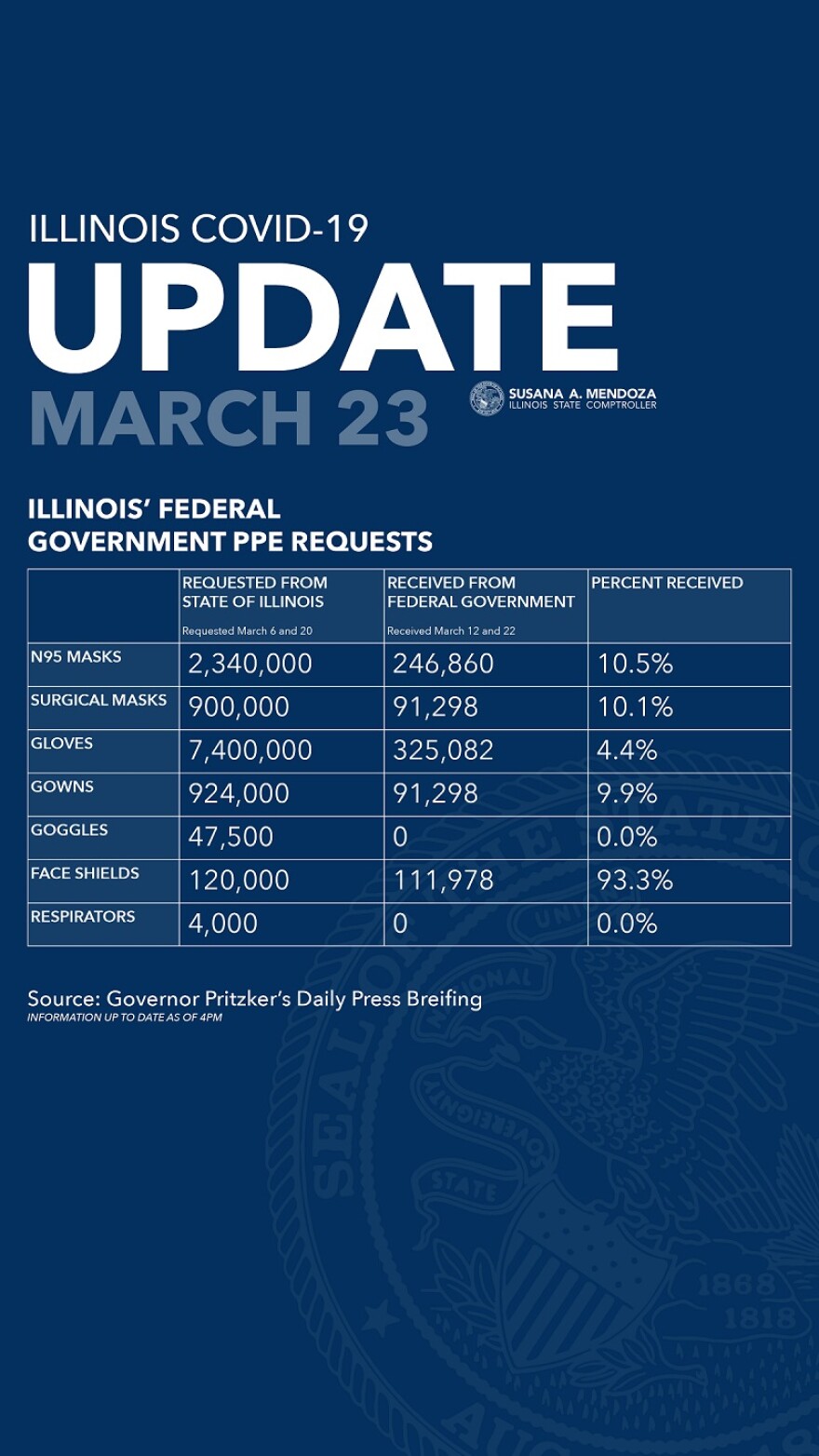 According to data Illinois Comptroller Susana Mendoza released on Thursday, the state has received only a small fraction of the supplies it has requested from the federal government.
Illnois has received about 10% of the N-95 and surgical masks and gowns it has requested and 4% of its gloves as of March 23, according to the report. It said the feds provided nearly all of the face shields the state requested.
McLean County has reported eight COVID-19 cases and one death. County health officials have said a limited supply of testing kits likely means the number of actual cases is higher. Only patients with severe symptoms are getting tested.
Returning To Normal
LaHood said he's not ready to commit to Easter Sunday in less than three weeks to reopen schools and businesses across the country as President Donald Trump has suggested, but he worries that prolonged shutdowns will cause a deeper economic freefall.
"To think we are going to keep kids out of school and keep every bar and restaurant and hair salon and landscaper shut down, we just can't do that. That's not what we are as Americans," LaHood said. "We need to figure out that balance moving forward."
LaHood said he believes decisions on when to open schools and business should remain at the state level.
"I don't think we need a day certain to open things back up, but I think looking at Easter as a day to kind of analyze things and continue to do that on a daily basis is important to do," LaHood said. "Let's also remember Central Illinois and McLean County is different from Chicago or different from New York City or different from Miami."
Illinois was among the first states to close schools, bars and restaurants to help limit the spread of the coronavirus.
Schools are scheduled to remain closed through April 7 as part of a statewide shelter-in-place order.
Illinois has reported 1,865 COVID-19 cases and 19 deaths.

We're living in unprecedented times when information changes by the minute. WGLT will continue to be here for you, keeping you up-to-date with the live, local and trusted news you need. Help ensure WGLT can continue with its in-depth and comprehensive COVID-19 coverage as the situation evolves by making a contribution.