Outside Money Floods Into Local Races As Election Nears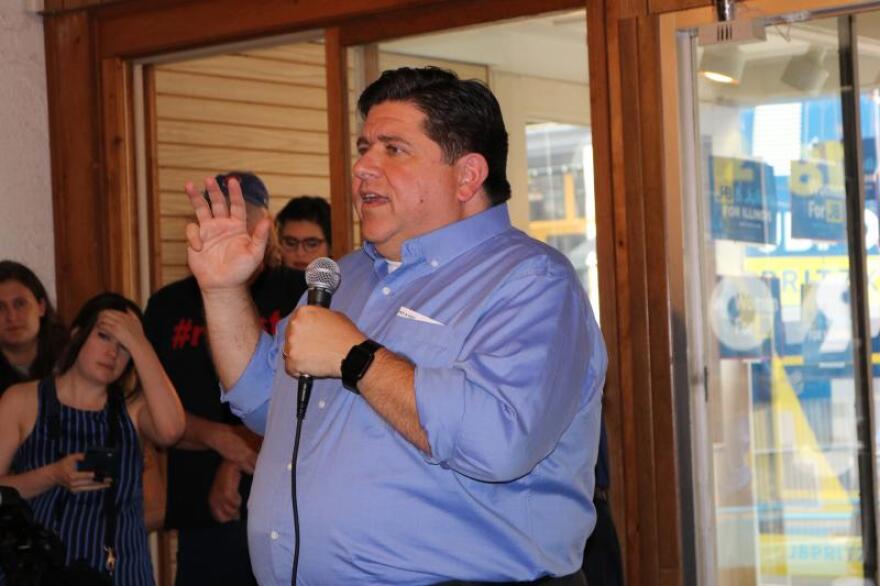 More and more money from outside McLean County—and even Illinois—is pouring into local campaigns with just weeks to go until the Nov. 6 midterm election.
Monday was the deadline for local, state, and federal candidates to report their third-quarter fundraising totals (for the period ending Sept. 30) with the Illinois State Board of Elections and Federal Election Commission. Here's a closer look at the races GLT is watching:
Davis vs. Londrigan
U.S. Rep. Rodney Davis, R-Taylorville, will face Democrat Betsy Dirksen Londrigan in the 13th Congressional District, which includes parts of Bloomington-Normal. The district leans Republican, and it's one that national Democrats want to win. They need to flip two-dozen seats to win the House majority.
As of Sept. 30, Davis and Londrigan's campaign funds were similar in size. Davis had around $1.3 million in his war chest, and Londrigan had $1.1 million.
Londrigan outraised Davis in July, August, and September, pulling in $1.7 million—around 73 percent from individual contributors, FEC records show. While much of that money came from Illinoisans, Londrigan also raised $301,754 from donors in California, $110,548 from New Yorkers, and $45,990 from supporters in Massachusetts, among other states.
Davis raised $702,906, with the bulk of his money coming from political action committees and other groups, with $5,000 contributions from Koch Industries PAC, the Home Depot PAC, American Association of Crop Insurers PAC, and UnitedHealth's PAC, to name a few. Vice President Mike Pence also appeared at a fundraiser for Davis last week in Springfield.
Londrigan has also received lots of support from outside groups—those not directly affiliated with her campaign that oppose Davis' re-election. Outside groups have spent at least $1.8 million on the 13th District this year, most in support of Londrigan or opposing Davis, FEC records show. The biggest spender is Women Vote!, an offshoot of Emily's List, which endorsed Londrigan.
McLean County Democrats vs. Republicans
The McLean County Democrats outraised the local GOP in July, August, September—including a big contribution linked to Democratic candidate for governor JB Pritzker.
Local Democrats raised $69,278, including $45,091 from the Rock Island Democratic Party. The Rock Island Democrats sent big chunks of money to Democratic organizations across the state—including McLean County—after receiving $1.7 million from Pritzker's campaign in September.
The McLean County Republican Party raised just $5,898 during that same time. GOP chair Connie Beard criticized Democrats for taking so much money—indirectly—from Pritzker, a billionaire.
"It's important for voters to understand the implication of such exorbitant funds. The message: votes can be bought. We're trusting that voters in McLean County will not allow Cook County to determine how they will vote," Beard said earlier this month.
McLean County Democrats chair Erik Rankin pushed back on that criticism. He said Democrats would've still outraised Republicans even without the $45,091 from Rock Island. Their annual Baldini dinner fundraiser saw 300 attendees—a big jump from the usual 100, Rankin said.
"We fundraised more on that single day than the Republicans raised in the entire quarter," he said. "Money comes into parties from different locations all the time. … I'm excited for the fact that we have a candidate for governor and another major county organization that's raising funds to help local parties. This is how we turn the tide. This is all good for all of us."
Local parties typically use their campaign funds to support candidates in local races.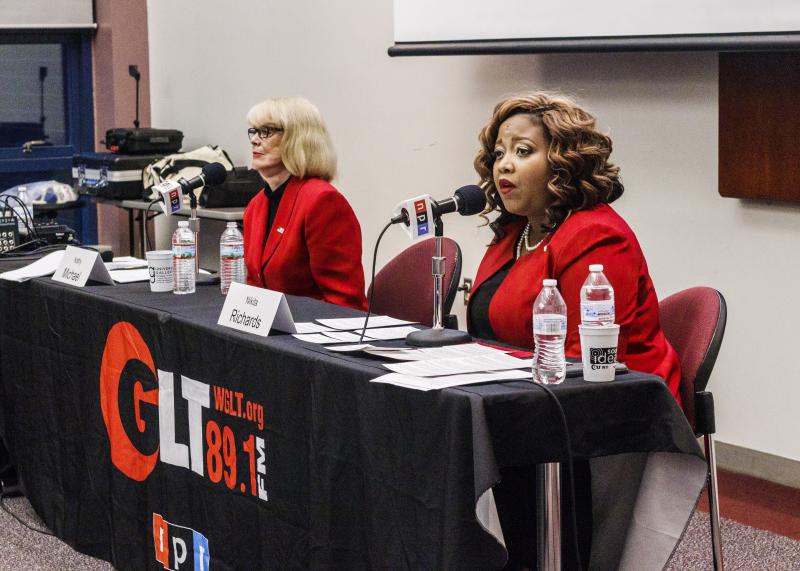 McLean County Clerk Kathy Michael left, and her Democratic challenger Nikita Richards at a GLT debate.
Credit Jeff Smudde / WGLT
McLean County Clerk
Republican County Clerk Kathy Michael is trailing her Democratic challenger, Nikita Richards, in the money race.
Richards raised $12,664 in the third quarter, leaving her with $9,234 in her campaign fund heading into the final weeks of the campaign. That includes contributions from Pritzker and U.S. Rep. Cheri Bustos, a Democratic heavy-hitter who visited Bloomington over the summer.
Michael, one of the Democrats' top targets in November, raised $4,635. That leaves her with $2,842 in her war chest as of Sept. 30.
Statehouse Races
For the second straight quarter, Democrat Jill Blair of Bloomington outraised incumbent state Rep. Keith Sommer, R-Morton, in their race for the 88th House District seat.
Blair raised $21,041 in the third quarter, including chunks of money from union PACs. Sommer raised $18,565, including from PACs tied to the Illinois State Medical Society and Caterpillar employees. Sommer's remaining war chest is bigger than Blair's—common for an incumbent.
State Rep. Dan Brady, R-Bloomington, continues to hold a sizable fundraising advantage over his Democratic challenger Ben Webb in the 105th House District. Brady raised $52,640 and now has $130,380 in his campaign fund. He's also sent thousands of dollars to other House Republican candidates. Webb raised $9,062, leaving him with $5,452 in his campaign fund.
People like you value experienced, knowledgeable and award-winning journalism that covers meaningful stories in Bloomington-Normal. To support more stories and interviews like this one, please consider making a contribution.