Turning Back To 4-Year Roots, Lincoln College Knows Its Niche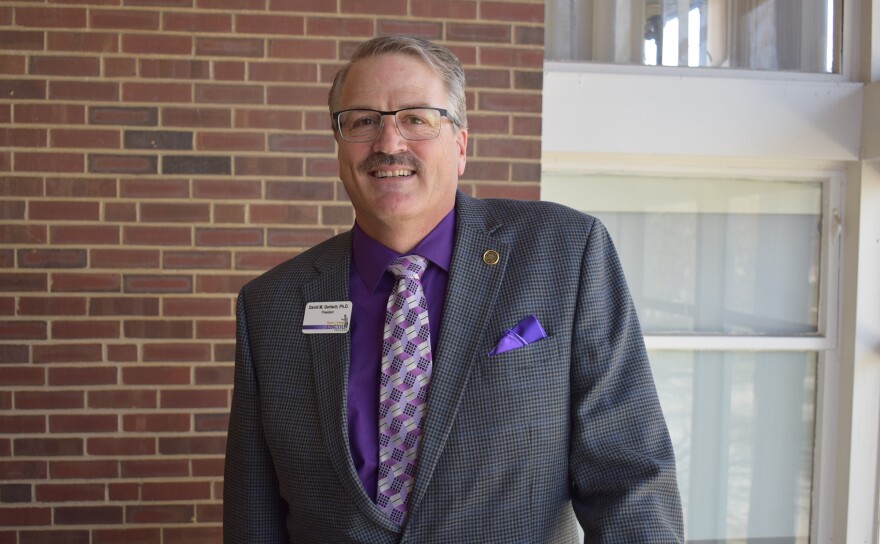 Ten years ago, Lincoln College was a junior college in a small town.
Ten years in the future, it could have up to 20 bachelor's degree programs, a few master's programs, more residence halls, new satellite locations for adult education, and perhaps a few national championships under its athletics belt.
That's the ambitious future envisioned by Lincoln College President David Gerlach, who was hired in 2015. He's leading the college's transition back into being a four-year institution, like it was when it was founded in 1865 until the Great Depression.
"It's been exciting. It's been challenging," Gerlach said on GLT's Sound Ideas. "Ten years from now you'll see a Lincoln College that's expanded back to its roots and back toward our original mission as Lincoln University, offering bachelor's and master's degrees."
Lincoln College now has around 700 undergraduate students on its Lincoln campus, around 30 minutes south of Bloomington-Normal on Interstate 55.
Since Gerlach's arrival, Lincoln College has added eight new bachelor's programs, in fields such as exercise science, criminal justice, sport management, and radio, television, and new media. As the college looks to grow its enrollment by 500 students in the next decade, it was recently gifted a former nursing home in Lincoln that will be renovated into a "grand residence hall," said Gerlach.
Those changes also included scaling back its offerings in Normal, to just the accelerated adult education programs. Other certificate and other degree programs were eliminated. (The college had been "trying to be all things to all people," Gerlach said.)
"We serve a very different population than any other college in central Illinois."
And Lincoln College hopes to find out this month whether it will be able to join the NAIA, an athletic association for four-year institutions that includes Illinois schools such as Benedictine University in Bourbonnais or Millikin University in Decatur. Lincoln's student-athletes currently compete in the NJCAA for junior colleges.
Gerlach said these changes will enhance Lincoln College's ability to recruit its unique demographic of student. Half of Lincoln's students are the first in their family to go to college, Gerlach said. Around 60 percent are from underrepresented backgrounds—a far high percentage than many other Illinois colleges and universities, he said.
"We serve a very different population than any other college in central Illinois," Gerlach said. "We are transforming their lives, giving them an amazing environment where they're getting started in leadership on Day 1."
About a quarter of Lincoln College students come from within a 50-mile radius, but another 25 percent hail from Chicago's south and west sides.
That can lead to a little culture shock for Chicago students moving to Lincoln, a bedroom community with around 14,000 residents. The college has tried to address that by offering shuttles to local businesses and discounted tickets to the first-run movie theater downtown, among other initiatives, Gerlach said.
"It can be both challenging and yet we've leaned into it," he said.
So far, the progress is good, Gerlach said. Enrollment is up 21 percent in Lincoln, and adult education enrollment is up 27 percent, he said. The college just named a new vice president for academic affairs.
Perhaps Lincoln College would be more like Illinois Wesleyan or Millikin universities if it hadn't veered from its original mission a century ago, Gerlach said.
"But the landscape that we're in, in my opinion, is what society needs today. We are serving students that don't have many options. They have options, but not many options."
lincolnlong.mp3
Full segment from GLT.
People like you value experienced, knowledgeable and award-winning journalism that covers meaningful stories in Bloomington-Normal. To support more stories and interviews like this one, please consider making a contribution.