'T'eed Off By Unruly Fans, More Refs Are Quitting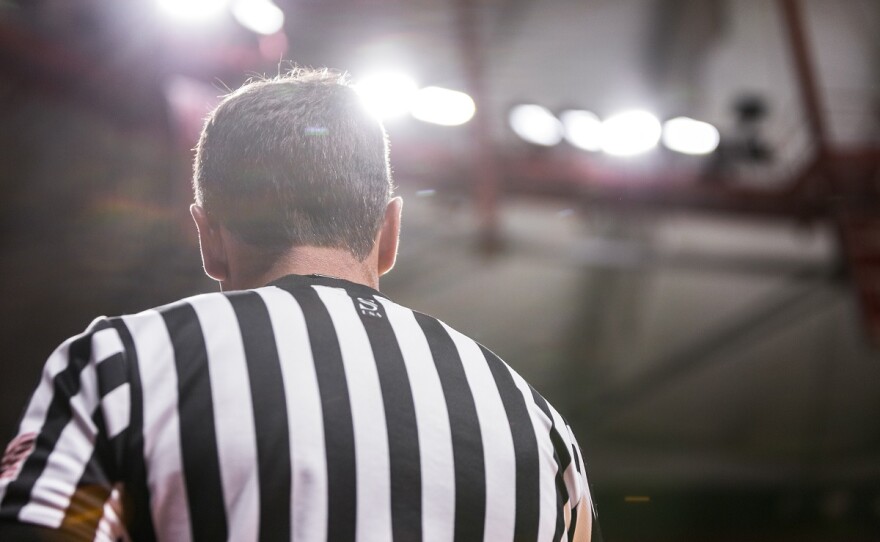 The Illinois High School Association reports the number of licensed officials in Illinois has dropped 21 percent in five years.
Jeff Smudde / WGLT
The Illinois High School Association reports the number of licensed officials in Illinois has dropped 21 percent in five years.
Jeff Smudde / WGLT
Derek Sieg, President of the Bloomington-Normal Officials Association, has been officiating for 33 years.
Jeff Smudde / WGLT
Derek Sieg, President of the Bloomington-Normal Officials Association, has been officiating for 33 years.
Jeff Smudde / WGLT
Jacob Hartness (left) and Tom Eades await the tipoff of the Illinois State vs. Valparaiso men's basketball game on Feb. 5.
Jeff Smudde / WGLT
Jacob Hartness (left) and Tom Eades await the tipoff of the Illinois State vs. Valparaiso men's basketball game on Feb. 5.
Jeff Smudde / WGLT
Game Time Gym II in Bloomington needs up to 100 officials to cover all of its games on a typical weekend.
Eric Stock / WGLT
Game Time Gym II in Bloomington needs up to 100 officials to cover all of its games on a typical weekend.
Eric Stock / WGLT
In sports, officials are at their best when their work goes unnoticed. But organizers of youth and high school sports in Illinois have noticed the supply of people willing to don the stripes has dwindled when demand for officials has never been higher.
Scott Kerr recalls working a postseason high school basketball game in a packed gym two years ago. He assessed a technical foul against a player at a key moment in the game, and he heard about it from one fan in particular.
"We're going down the court and a guy from the team that was down that the technical was against started referencing my weight, telling me I wasn't a good official because I was fat and out of shape and I couldn't get up and down the floor," Kerr recalled.
"I thought I was doing a good job."
Kerr works in jail security. The 14-year veteran official who lives in Mansfield shrugged off the snide comment. But it appears that kind of vitriol has prompted more officials to walk away from the games they love or in some cases never get started.
Derek Sieg is president of the Bloomington-Normal Officials Association and has been donning the whistle for 33 years, calling basketball, football, baseball, softball and more recently volleyball.

He sees the attrition problem firsthand.
"We need to fill the shoes of those who are retiring and we don't have enough that are either coming on board or staying on board," Sieg said. "We can get plenty of them started but after about three years they tend to drop off."
"We can't really keep them involved."
"Unfortunately, the fans become part of it," Sieg said. "For whatever reason the fans have become more vocal and there are some who just don't know how to tolerate it. They really shouldn't have to tolerate it."
Sieg said schools' inability to find officials has in some cases promoted them to cancel junior varsity baseball and softball games, where he said the need is greatest locally, and to move some football games to Saturdays because there aren't enough to work on Friday nights.
"I'm going to admit I yell at the TV sometimes too but I try to refrain when I am there in person because I understand that's a difficult position to be in," Sieg said. "You can't always be in perfect position, you just try to get in the best position you can, and you can't see everything.
"There are times where a fan has a better angle than the officials do."
The problem he said is when the complaints get personal.
"There may be some places you go where fans know you either through work or other community experiences and they start to call you by name," Sieg said. "Or you've got fans that will continually yell, yell, yell, may or may not know what they are talking about.
Sieg said the association offers mentoring to young officials so they don't quit.
Kerr said the problem has been amplified by having more young officials fast tracked to cover higher profile games that years ago never would have happened.
"Now we've got guys working varsity level basketball in their second or third year, maybe even their first year if its needed," Kerr said. "That's good that they are willing to do it, but they will also tell you they are not prepared for it."
How To Get Started
All officials have to start somewhere. Many of them in McLean County cut their teeth at Game Time Gym II in Bloomington. It hosts basketball tournaments from third-graders to adult and hosts adult volleyball and recreational badminton and pickleball.
The venue demonstrates how youth sports has grown into a major industry in the United States.
During its peak season from October to March, owner Larry McDowell said he needs to fill 100 official game slots every weekend. He admits it's the hardest part of owning the business.
"(It's) 100 percent the hardest part, because the number of refs you need, the shortage of officials, the time is takes to train them, the time it takes to schedule them," McDowell said. "It's not their full-time job."
Officials are paid between $10 and $18 per game. They are doing it for the experience or for the love of the game. McDowell said many of their officials are new to the craft and have to work their way up.
McDowell typically starts them reffing third grade games, the youngest level of competitive basketball, where they are not the only ones learning.
"It's just the perfect storm at that level, where a new official, special rules, kids not making a basketball move that you are trying to understand and then the expectations of the parents and coaches is we have to have a quality official," McDowell said. "We accept that but it is extremely difficult."
Third-graders have special rules since basketball skills are underdeveloped at that age. At Game Time Gym II, third-graders are not allowed to double team an opponent or steal the ball off the dribble.
IHSA Sees Drop
The Illinois High School Association has kept its eye on the shrinking official rolls, but doesn't consider it a crisis yet.
Sam Knox oversees officials for the IHSA. He said the number of licensed officials in the state has dropped from about 14,000 five years ago to nearly 11,000 this year. That's a 21-percent drop in five years.
Knox noted its part of a national trend.
"We've got a lot of officials who have been with us for 30 or 40 years and still go out and officiate basketball three and four nights a week," Knox said. "They are telling us they are getting tired and need someone to come and take their spot."
He said the IHSA has stepped up recruiting efforts – several high schools and colleges offer classes in sports officiating and the association is encouraging more schools to add it.
Official Costs
Anyone who wants to become an official faces startup costs that could climb into the hundreds of dollars. First they have to be licensed. Licensing through the IHSA costs $50 for one sport and $15 for each additional sport.
Officials also buy their own uniforms, hats, shoes and other gear, including whistles and chest protectors.
Some official associations, including the one in Bloomington-Normal offer financial help and sometimes hold garage sales so refs can gear up at a lower cost.
They can recoup that cost pretty quickly, depending on how often they want to work, but make no mistake, it's not an easy money-making proposition.
Hud Venerable is athletic director at Central Catholic High School in Bloomington. His school pays officials $50 for a freshman game, $60 for junior varsity and $70 for varsity.
Venerable, an Illinois Wesleyan University alum who coached Normal Community to a state football title in 2006, recently returned to Bloomington after serving as football coach and AD at suburban Lincoln-Way Central.
Venerable said he noted the officials' shortage is much greater in Central Illinois than in the Chicago area.
He said officials face many of the same obstacles coaches face. He has seen many coaches and officials walk away at much younger ages than they used to and he understands why.
"Long hours, not a lot of pay, sacrificing time away from your family, and then you throw in the social media part where unfortunately, nowadays everything is under a microscope," Venerable said. "I think there are challenges. You really appreciate these guys and gals that are doing it."
He said he hasn't noticed a significant change in fan behavior going back to his college days in the 1970s. He added that basketball moving two to three officials has actually made their job easier.
"We identify more of the negative now because we have social media and so word travels fast about the negative situations that do crop up," Venerable said. "I think fans have always been passionate about basketball in this state."
Venerable has sought to remove the potential for negative situations. When he was hired at Central Catholic in 2017 he adopted a sportsmanship code that comes with a pre-game announcement that the public address announcer reads before every sporting event.
"Good evening. Central Catholic High School would like to welcome the athletes, coaches and fans from (visiting school) to tonight's contest. The objectives of the IHSA and Central Catholic High School are to promote the educational importance of interscholastic events and good sportsmanship by the student athletes, coaches and spectators. In order to maintain the integrity and spirit of interscholastic activities as an extension of the classroom, Central Catholic asks that you respect the efforts of all participants involved with a positive display of sportsmanship. Negative comments, cheers, chants or behaviors directed at officials, student athletes, coaches or teams will not be tolerated. During the contest, please be supportive and show your appreciation for the efforts of both teams as you enjoy tonight's game. Central Catholic thanks you for your support and cooperation."
Kerr said he would like to see athletic directors be more proactive in removing unruly fans. He plans to work as long as can but he understands why others are hanging it up.
"Why should I go out, spend an hour and a half of my evening and go out there just to get yelled at by coaches and fans," Kerr said.
At 32, Kerr is one of the youngest officials he knows. He said while the relationship between refs and fans will always have conflict, he thinks many coaches have become more sympathetic as they see fewer refs joining the ranks.
"A lot of the guys I work with are younger so they say 'We've got to be nice to these guys, they are going to be around longer. It's going to be a long career for both of us if we can't seem to get along,'" Kerr said.
"They are out there just trying to make a living just like everybody else is," Kerr said. "They are the ones who have the willpower to go out in front of billions of people to do a job and be critiqued by everybody sitting on a couch or on their easy chair at home.
'Thick Skin'
Knox, a licensed official himself, said he empathizes with those refs who say they've had enough, but he encourages them to tune out the noise.
"Officials have to have some degree of thick skin and not have the rabbit ears," Knox said. "You hear those comments and sometimes you chuckle inside when people say the repeated comments time after time, gym after gym, but you have to find a way to tune that out and focus on the game."
Knox said the IHSA has a rating system for its officials that determine which ones are awarded postseason and state finals assignments. The system factors in licensing level, test scores, previous postseason experience and coaches ratings.
He added officials are also generally good at self-evaluation as they try to hone their craft.
"No official tries to make mistakes, just like no kid tries to fumble the football or miss a layup or strikeout," Knox said. "Everybody tries their best to do a really good job and believe me, officials know when they've done a poor job."
Knox said the biggest shortages are in wrestling, soccer and track and field.
NCAA Moves To Protect Refs
The NCAA has tried to clamp down on coaches protesting officials' calls by allowing them to assess a technical foul against a coach who gestures in any way that a ref could perceive as disrespectful.
Illinois State men's basketball coach Dan Muller was recently reprimanded by the Missouri Valley Conference for criticizing officials who gave him a technical during a January game at Bradley.
"I didn't deserve it all all," Muller said in a postgame news conference. "It was the most ridiculous call I've ever seen. I didn't say one word. It was unbelievable."
refereeshortage-long.mp3
GLT's full interview
WGLT depends on financial support from users to bring you stories and interviews like this one. As someone who values experienced, knowledgeable, and award-winning journalists covering meaningful stories in Central Illinois, please consider making a contribution.