Cricket Players See Hope In Proposed Multisport Complex
Members of the Officers team in the Central Illinois Cricket Assocation huddle under a tree during their team's game at Eastview Christian Church.
Eric Stock / WGLT
Members of the Officers team in the Central Illinois Cricket Assocation huddle under a tree during their team's game at Eastview Christian Church.
Eric Stock / WGLT
Cricket players use Eastview Christian Church grounds next to Normal Community High School and a field in a Normal detention basin to play games.
Eric Stock / WGLT
Cricket players use Eastview Christian Church grounds next to Normal Community High School and a field in a Normal detention basin to play games.
Eric Stock / WGLT
Renewed talk of a multisport complex in Bloomington-Normal has offered hope to organizers of various sports that they would be able to play year-round and bring more tournaments to the Twin Cities. Among them are soccer, softball, and lacrosse.
But one sport could gain more than any other. Twenty years after cricket first came to the community, there's still no regulation field on which to play.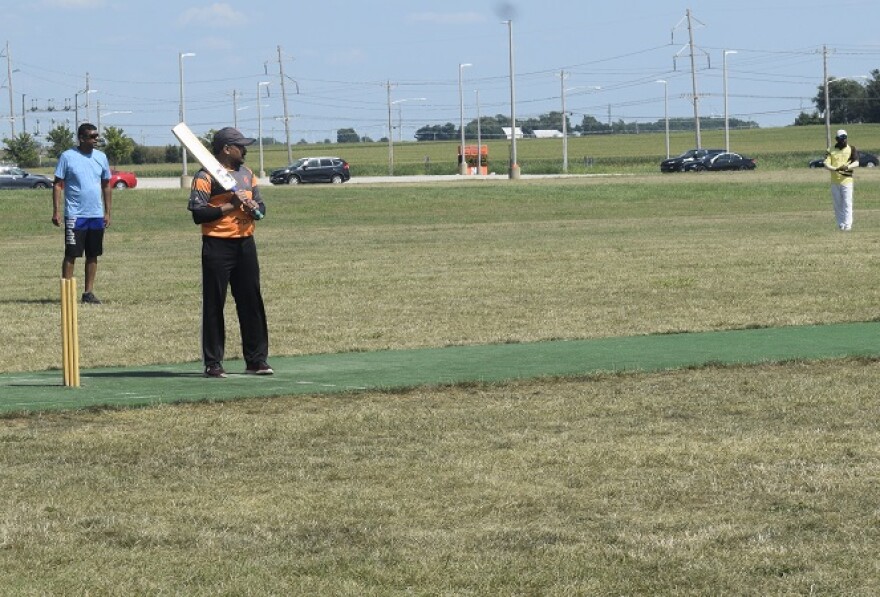 Risik Rangineni remembered the first time he played cricket at Eastview Christian Church in Normal a few years ago. He broke his collarbone trying to make a running catch on an uneven field.
"I slipped (on) my leg or something and caught the ball and I had to make that up, so I caught the ball, landed on my collarbone and I broke it," Rangineni recalled, adding if it had been a level surface, "that would not have happened."
Rangineni said the surface has smoothed out over the years and it's now better and safer than the other surface cricket players often use: a detention basin in Normal. That field provides its own challenges.
Central Illinois Cricket Association President Shishir Pandey said there's a ditch about 20 yards wide right in the middle of it.
"Our cricket balls keep getting lost there, we have to spend time funding it or if we can't find it, replacing the balls … it's a little painful," Pandey said.
The detention basin is also well short of regulation size. So the ball cricket players use isn't a real cricket ball. They have to use something softer, more like a tennis ball, so it won't travel as far.
Cricket is the number one sport in India. Many expatriates play the game here. The league has had as many as 25 teams. Top players, including Ashraf Syed, play on a regional travel team, one that's always traveling because they can't play in Bloomington-Normal.
They go to Peoria at least once a week for home games. Syed said he would love to see the day when those teams come to the Twin Cities instead.
"If we have a properly created ground in Bloomington, they we could be attracting crowds from all over the Illinois and Missouri region," Syed explained. "People are really crazy about cricket."
That would require having a regulation-sized field. Cricket fields are generally at least 150 yards long. Bloomington Parks and Recreation Director Jay Tetzloff said it's the size of two soccer fields back-to-back with a circle around them.
Tetzloff said cricket organizers were the first to approach him when he became director in 2015 about seeking a place to play in Bloomington.
"We started looking at maps, started going out, asked my staff who had been here and they were like, 'There is no place for them,'" Tetzloff recalled. "That just seemed hard to believe, knowing we own and take care of over 1,000 acres, but as we went through it, my staff were right, we didn't have a place for them."
Tetzloff said the league has been patient. Cricket fields are on the short list in the city's latest parks and recreation master plan, but he said that's not good enough.
"I feel like I am failing them because we've got places for most of the other sports that are around but not a good place for them yet," he said.
The city has offered up the Baywood cricket grounds near Eagle View Park on the far east side. That is also smaller than regulation. Teams use it to practice.
Tetzloff said his staff has even looked outside city limits for fields. That would require annexing and buying land, which he added is not a city priority.
What gives cricket players in Bloomington-Normal hope is the proposed multisport complex. A study last year put the price tag at close to $44 million but projected an overall economic benefit. Normal's Parks and Recreation Director Doug Damery set out to study how much sports teamswould use an indoor-outdoor sports complex.
He said build it and they will come.
"The best thing about this project, we have so much local demand that we can really leverage this demand into a nice opportunity to create a facility that could really bring in some major events," Damery said.
A need to replace airport area soccer fields has driven debate over the multisport proposal. The Central Illinois Regional Airport will eventually take back use of the current soccer fields. But Damery said it will take more than one sport to keep a multisport facility busy enough to cover costs.
The cricket association said it would use the outdoor fields 336 hours in the first year. All the sports easily topped consultant recommendations of use to make the facility financially secure. Damery said he asked the cricket league if it could absorb a $75 per hour rental fee.
"Cricket was a little taken aback at first by the number because they play a lot, but once you break it down and start looking at it a little closer, they came back and said, 'Yeah, we would probably so something like this,'" Damery said.
Other sports might pay different fee rates depending on needs. Sports associations might have to raise dues to cover field costs.
Venkata Komaragiri has been playing cricket in Bloomington-Normal for 19 years and is now a team captain. He said cricket players want a real field and will do their part to pay for it.
"That is something (where) we all need to come together on and take the next step," Komaragiri said. "We've been supported through different charities and different communities. We'd love to continue that support."
This could present a challenge. The cricket association has been shrinking. Chairman Pavan Bhagavatula said the number of teams has declined following job cuts and transfers at State Farm, which employs most of them directly and as consultants. Bhagavatula said some have even returned to India after work visas expired.
"The visa issue has contributed to it to an extent, a lot of people have to go back because of visa issues and then the shuffling, you've probably heard, State Farm has moved things around," Bhagavatula said.
Bhagavatula said 19 teams is still enough to get lots of use out of a sports complex. He said such a facility would even attract more players.
"Do we have we enough games to fill in?" he asked. "It goes back to the number of teams in decline this year. It's something we are working on."
Background talks about a multisport complex continue and the issue might come back to Bloomington and Normal city councils in the next several months. Leaders in both cities say it will take a public-private partnership for the project to advance.
Cricket player Risik Rangineni said he and others would like a field with fewer limitations, but he will continue to play no matter where they have to go.
"At the end of the way, we want to play cricket," Rangineini said. "(It's) more than the bat and the ball, (it's) the time we spend on the ground, the community we have."
He said cricket fosters a sense of community for many who come from a faraway land.
Cricket players used to have an indoor option. State Farm had sponsored a cricket league on the turf at Game Time Gym in Bloomington, but it discontinued the program last year.
WGLT depends on financial support from users to bring you stories and interviews like this one. As someone who values experienced, knowledgeable, and award-winning journalists covering meaningful stories in Central Illinois, please consider making a contribution.