Immigration Advocate Hopes For Reforms, 'Welcoming' Under Biden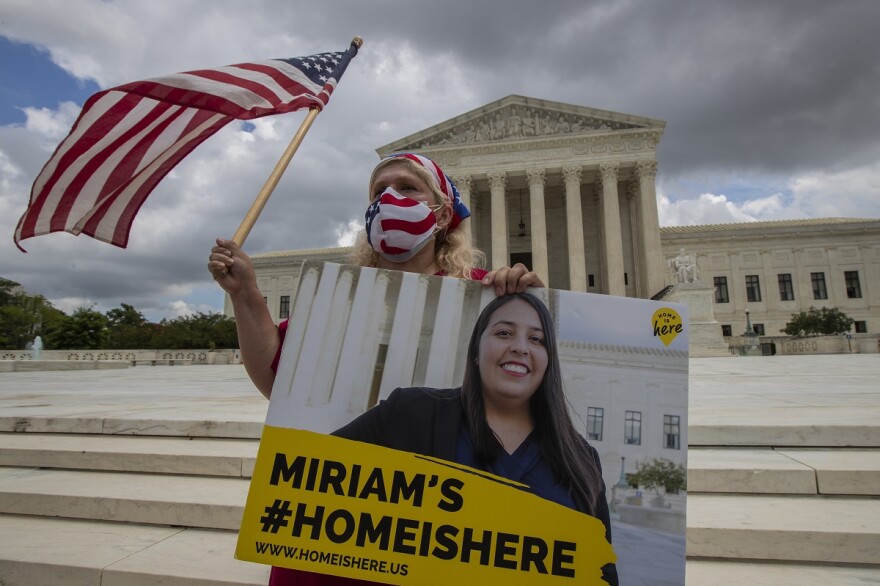 A Twin City immigration advocate hopes the incoming Biden administration will be less hostile toward the immigrant community than under the leadership of President Trump.
Charlotte Alvarez is executive director of The Immigration Project in Normal, a non-profit that provides immigration legal services in central and southern Illinois. Alvarez said hostility from the Trump administration goes beyond policy.

"The extreme rhetoric that had been anti-immigrant, anti-minority; divisive rhetoric that has made people feel very alienated and unaccepted and unwelcome in their chosen homeland, that has been a deep emotional impact," she said.
Alvarez said the Immigration Project is non-partisan and is focused on issues--not candidates. She said she wants to see President-elect Biden solidify the Deferred Action for Childhood Arrivals program, or DACA, that Trump tried to end in 2017.
"Our dreamer clients have really been stuck in uncertainty, unable to move forward and form roots because they don't know when those roots are going to be upended by federal policy," Alvarez said.
The U.S. Supreme Court rejected the Trump administration's effort to kill DACA in June, but left the door open for another legal challenge.
Biden has said he plans to keep DACA as part of a broader immigration reform package. Alvarez said she also wants to see greater legal protections for asylum seekers, including those who are being denied entry at the border.
Deportations
Since Trump took office in 2017, deportations have actually significantly decreased. Alvarez said while President Barack Obama was derisively referred to as the "deporter in chief," his administration was more strategic, targeting undocumented immigrants who had criminal records, or who had been previously deported multiple times.
"President Trump stripped away those priorities and said everyone is equally a priority, whether someone is a young mother with small children who are U.S. citizens dependent on her being in the United States versus someone who has multiple felony convictions," Alvarez said.
She noted the United States has more than 1 million undocumented immigrants currently in removal proceedings, including a record 40,000 in Chicago Immigration Court.
Latino vote
Despite Trump's often harsh rhetoric toward immigrants, he performed better with Latinos in the 2020 election than he did in 2016. Alvarez said it's best to not think of Latinos as one voting bloc.
"It's a mistake to think of Latinos as having a single life experience and therefore having a single political identity," she said. "It's very different to be a Latino who left Cuba or Venezuela, or than someone who grew up in the United States or came from Mexico, for example."
Welcoming Ordinance
Closer to home, Alvarez said the Immigration Project continues to advocate for a Welcoming Ordinance in Bloomington. Advocates recently revived that effort by urging the city councilto enact the policy that is intended to prevent local police from sharing information with federal immigration authorities.
"There's a power to law and as an immigration attorney, I really do believe in law and order and the power of our laws to shape how we act," she said. "The way we do that on a city level, it's a signaling device as to who we are and what we stand for and as a specific restriction."
In 2018, Mayor Tari Renner directed then-police chief Clay Wheeler to codify it into police department policy. Wheeler and his successor, Dan Donath, have both retired since then.
There's no subscription fee to listen or read our stories. Everyone can access this essential public service thanks to community support. Donate now, and help fund your public media.