Bloomington will start an endowment to expand access for the planned O'Neil pool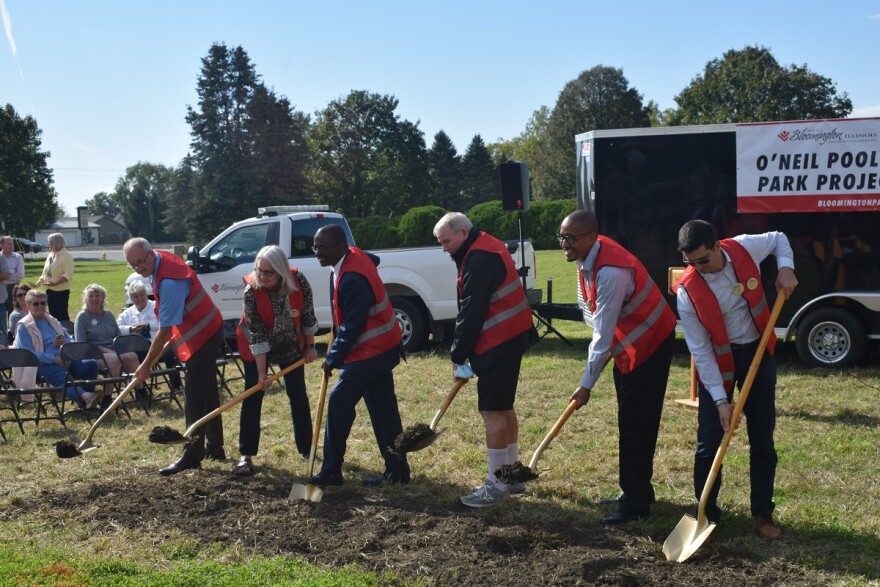 Bloomington city officials held a ceremonial groundbreaking for the O'Neil Pool and Park project on Wednesday and announced a gift that will help low-income families use the pool.
Mayor Mboka Mwilambwe announced an anonymous donor gave the city $20,000 to start an endowment to pay for O'Neil pool passes for families in need.
"It is also my sincere hope that this generous donation will encourage many others in the community to donate so that we can grow the endowment over time and serve as many families as possible," Mwilambwe said.
Bloomington interim Parks, Recreation and Cultural Arts Director Eric Veal said the city wanted to ensure cost would not be a barrier for families to use the pool.
"That adds a whole new element that we were trying to find a way to achieve," Veal said.
Mwilambwe said the Boys & Girls Club of Bloomington-Normal will identify eligible families.
"The project provides a great opportunity for residents from all corners of the city to interact with one another and get to know each other," Mwilambwe said. "That in my opinion is what builds community and helps us break down many of the artificial barriers that exist among us."
The city approved funding for the $11.8 million aquatic center in March. Mwilambwe added the city plans to use some parks and recreation staff to help trim the cost of the project. Veal said that would likely include some landscaping and demolition work, which would save the city about $100,000.
The aquatic center, based on designs produced by Itasca-based Williams Architects, will include several pools and slides, a splash pad and the only public lazy river in Bloomington-Normal. The project also rebuilds the skate park and expands parking.
Veal said the city anticipates the pool will be a regional draw that will boost economic development for west Bloomington.
"The pool and park will attract more people. They'll come in, they'll buy gas, they'll buy food. We're going to have concessions as well, but that opportunity will then parlay into other activities in the community because they will come here for this and then they will stay for other things," he said.
The City of Bloomington tore down aging O'Neil pool at the start of the pandemic. The pool lasted 20 years past its life expectancy. The city plans to seek bids for construction next month and hope the project will be done next year.
We depend on your support to keep telling stories like this one. You – together with donors across the NPR Network – create a more informed public. Fact by fact, story by story. Please take a moment to donate now and fund the local news our community needs. Your support truly makes a difference.