Funding approved for Bloomington pool and library projects; Ward 1's Jamie Mathy resigns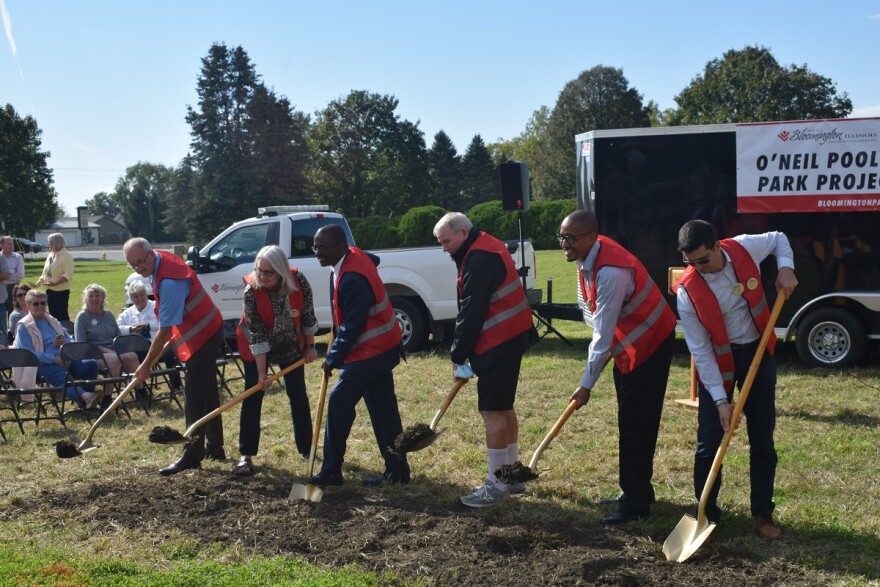 The Bloomington City Council's Monday night meeting included expected big-money decisions on two major capital projects, but also brought the surprise resignation of Ward 1 council member Jamie Mathy.
The council OK'd a nearly $14 million construction contract for O'Neil Park's Pool and Park Project. The city is borrowing a combined $20 million to cover that, and to assist the Bloomington Public Library in its renovation project, using general obligation bonds.
Moments before the two-plus hour meeting ended, Mathy, who also is Bloomington mayor pro-tem, announced he'd be resigning immediately, to focus on a business opportunity.
"This is going to come as a shock to a lot of people," he said. Mathy said he was stepping down for a business opportunity that wouldn't be compatible with holding the citywide office.
Later Monday night, Mathy told WGLT he didn't know the opportunity would present itself when he ran for re-election , or he wouldn't have campaigned. He declined to share more details.
Mayor Mboka Mwilambwe will interview candidates, and appoint a replacement for the Ward 1 vacancy, as required within 60 days. This marks the second council member the mayor will appoint since his April election.
"It has been an honor and a privilege to serve the residents of the city of Bloomington," said Mathy.
Also at the meeting in the downtown Government Center, the council began a city ward redistricting process, and held a public hearing on the city's proposed $269 million annual budget. No one signed up for public comments at the hearing.
The budget document, about 7% higher than last year's mostly due to federal COVID-relief funding, is set for adoption April 11.

Normal's P.J. Hoerr to handle O'Neil project
The council voted 7-2 to award Normal-based P.J. Hoerr Construction a nearly $14 million contract to oversee the extensive renovation of O'Neil Park, including its centerpiece, a new aquatic center.
The city's borrowing about $6 million for the project. The council also approved amending Bloomington's fiscal 2022 budget by roughly $10,500, for project costs.
Eric Veal, the Bloomington Parks, Recreation and Cultural Arts director, shared details on the project, which includes a pool, lazy river, and splash pad, as well as a new skate park.
"This will make Bloomington better for current and future residents," he said, noting the city hasn't built a public pool in nearly 50 years. "This is one to be proud of," he added.
Ward 3's Sheila Montney and Ward 5's Nick Becker voted against the contract, citing increasing costs since the project first was proposed.
"It's the prioritization of spending that I question," said Becker. "We're already up 50 percent (from the original proposed $10 million), and we haven't even broken ground yet," he said.
But Mathy said higher costs are expected. "The whole world has gotten more expensive" as the COVID-19 pandemic has played out, he said.
Mwilambwe echoed those sentiments, adding the city's committed to the renovation: "It's been a long time coming for the west side."
"It is a question of priorities," said Ward 4's Julie Emig. "I believe this is a community investment. I don't see it as something that diminishes the other responsibilities we have, but enhances Bloomington."
An endowment to offset entry-fees for lower-income residents, now at $32,000, continues to grow, the mayor said.
Library project funding OK'd
To enable the Bloomington Public Library's major expansion, the council unanimously approved an intergovernmental agreement with BPL, relating to the city issuing more than $14 million in bonds for the renovation project.
However, in a separate vote authorizing a nearly $21.3 million amendment to the FY22 budget tied to that expansion, Becker and Montney voted "no."
In an unrelated matter, the council voted unanimously to allow the city to issue up to $20 million in general obligation bonds to finance capital improvements.
Census data leads to redistricting
The council voted unanimously Monday to begin a redistricting process for the city's ward system.
Residency in each ward shouldn't vary by more than a 10% margin, said city attorney Jeff Jurgens. However, 2020 U.S. Census data shows Ward 8 is 25% over the median, and Ward 7 is 12% under.
So, staff will draft a few proposals to adjust the map. Council will see those drafts in June, and could vote on a new map by July, he said.
Mayor: Mathy's resignation 'bit of a shocker'
"I find myself at a crossroads — where I must focus on the needs of my business, and with it the financial security of both my family and my employees," Mathy told the council, in explaining his resignation. An unplanned opportunity arose over the winter, and legally, to take that, he had to step down from council, he said.
"It's a bit of a shocker," said Mwilambwe, after he and the council gave Mathy a standing ovation. "But we definitely understand you have to do what you need to do for yourself, your family, as well as your employees."
Mathy owns the game store Red Raccoon Games in downtown Bloomington. He first was appointed to council in 2013. He was elected in 2017, and re-elected in 2021.
He said he'll continue serving Bloomington, just in different ways. A member of the Community Health Care Clinic board, he'll serve as president of that next year, he noted.
Ward 1's Mathy said he's had three main focus areas as an elected city leader, and feels proud about strides made in each area — investing in older neighborhoods, modernizing the city's technology footprint, and improving communication between the council and city partners.
Challenges ahead for the council include expanding affordable housing opportunities, fighting urban sprawl, and improving Bloomington's infrastructure, he said.
In other business, the council:

Approved spending about $670,000 to buy three heavy-duty rear loaders from McNeilus Truck Manufacturing Co.
Heard the annual report of its police review board, the Public Safety Community Relations Board.
Adopted the city's 2021 zoning map.
Amended city code regarding fees tied to debt collections.
We depend on your support to keep telling stories like this one. You – together with NPR donors across the country – create a more informed public. Fact by fact, story by story. Please take a moment to donate now and fund the local news our community needs. Your support truly makes a difference.