Normal council learns how $3M grant will lessen inflation's impact on underpass project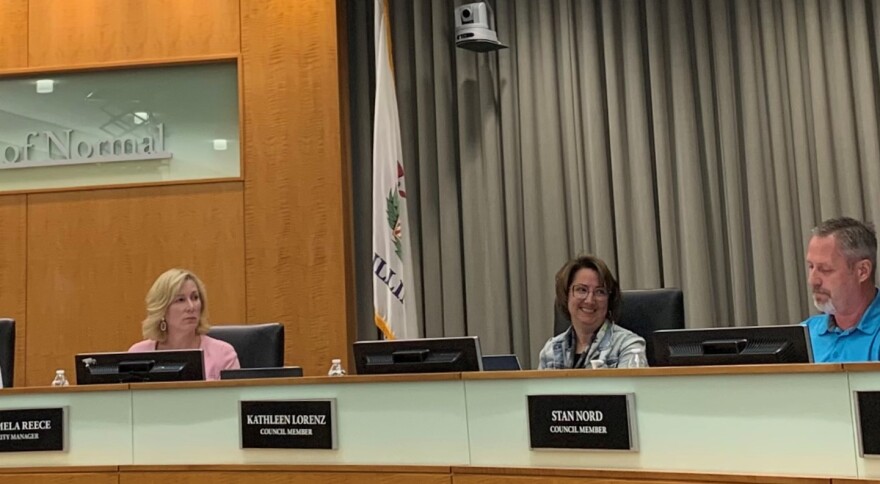 On Monday, Normal leaders celebrated the town securing a $3.1 million federal grant that will be put toward the planned construction of a pedestrian underpass in Uptown.
The Normal Town Council's vote formally authorizes staff to access the U.S. Department of Transportation grant from FY2019, specifically for the project at Uptown Station.
"It's been years and years of staff work to get us to this point," said Normal City Manager Pam Reece, of the walkway funding plans coming into focus. The underpass is expected to be constructed in 2024.
She praised staff for securing a total of about $5 million in grants for the project, just this month.
Originally projected to cost about $24 million, the current period of inflation is driving up projected costs. The $3.1 million grant, along with another one — from the Illinois Department of Transportation — will help maintain the integrity of the original project vision, while fending off inflation's impact, said council member Karyn Smith.
Also at Monday's meeting, the council OK'd an updated plan for a north normal subdivision and postponed a decision on another; and approved more than $550,000 in improvements to pickleball courts at Anderson and Underwood parks.
Inflation hitting projected costs for underpass
Normal requested $6 million in federal transportation grants as a way to offset inflation's negative impact on projected costs for the underpass project. The U.S. DOT approved half, or $3 million, said Reece.
The 5-1 vote allows staff to access the funds. Council member Scott Preston was absent.
Council member Stan Nord voted against accepting the grant, saying he didn't think the town was being honest about the project's cost.
His fellow council members chided him, saying it isn't possible to know what future construction costs will be.
First, the town secures grants, then engineers design the plan. It's when that plan is put out for bids that costs become clear, said council member Kevin McCarthy.
The plan calls for construction of a walkway to connect Normal's Uptown district to the area south of the railroad tracks at Uptown Station.
More than 90 percent of the project is grant funded. The council OK'd a state-required project agreement at its Aug. 1 meeting.
Wintergreen subdivision vote postponed
In another matter, Mayor Chris Koos told the council that developers working on a new preliminary plan for the Wintergreen subdivision withdrew a proposal from Monday's agenda. So, no vote was taken. The developer's expected to return with a proposal later.
A crowd of Wintergreen residents voiced opposition to the plan during the Aug. 4 Normal Planning Commission meeting. Developer Fairlawn Capital has proposed rezoning about four acres of the neighborhood for higher-density, R-2 zoned housing.
The plan would add a row of attached homes on the neighborhood's edge, and also present a broader preliminary subdivision plan for the neighborhood's third addition, north and east of Beech Street and Chuck Murray Drive.
Wintergreen subdivision sits west of Towanda Avenue.
Trails at Sunset Hills
The council did OK a planning commission recommendation that includes space for attached housing in the Trails at Sunset Hills subdivision, with no fanfare. The plans add lots for 35 single-family homes and 32 attached homes.
That neighborhood is at the northeast corner of Airport and Fort Jesse roads.
The council approved the subdivision's third amended version of an annexation agreement for roughly 83 acres of the Trails on Sunset Lake; and the second amended preliminary subdivision plan for a section of the neighborhood.
Asphalt work OK'd for tennis, pickleball courts
The council voted 5-1 to award a $556,100 contract to McLean County Asphalt Co. — from the Parks and Recreation budget — to cover two renovation projects. The first, at Anderson Park updates three tennis courts; while the second, at Underwood Park, converts two tennis courts into six pickleball courts at Underwood Park.
Nord voted "no."
Reece said the proposal originally called for tennis courts at Ironwood to be renovated as well, but repairs at that north Normal park proved to be more extensive and costly than planned. So, the projet will be addressed at a later date.
In other business, council approved:
Road improvements for the East Raab to Hershey roads Northpointe project, awarding an estimated $315,000 contract to Rowe Construction, of United Contractors Midwest.
A resolution authorizing the city manager to seek bids, and execute an energy service agreement for town-owned accounts.
We depend on your support to keep telling stories like this one. You – together with NPR donors across the country – create a more informed public. Fact by fact, story by story. Please take a moment to donate now and fund the local news our community needs. Your support truly makes a difference.