Q&A: What's next for Bloomington-Normal's active commercial real estate market
There's a lot more to the Bloomington-Normal real estate market than single-family homes.
The commercial market includes office space, retail, industrial, and big apartments. And it's on its own cycle, typically following the residential market but several months behind.
Laura Pritts and Meghan O'Neal-Rogozinski are agents with Coldwell Banker Commercial in Bloomington. They tell WGLT's Sound Ideas that they've been busy.
Big-picture view of the commercial real estate market
Pritts: I have been in the commercial real estate market here in Bloomington Normal for almost 27 years. And I would say that this is the most active that I've ever seen it. Investment property, particularly, but really all sectors of the market are pretty active.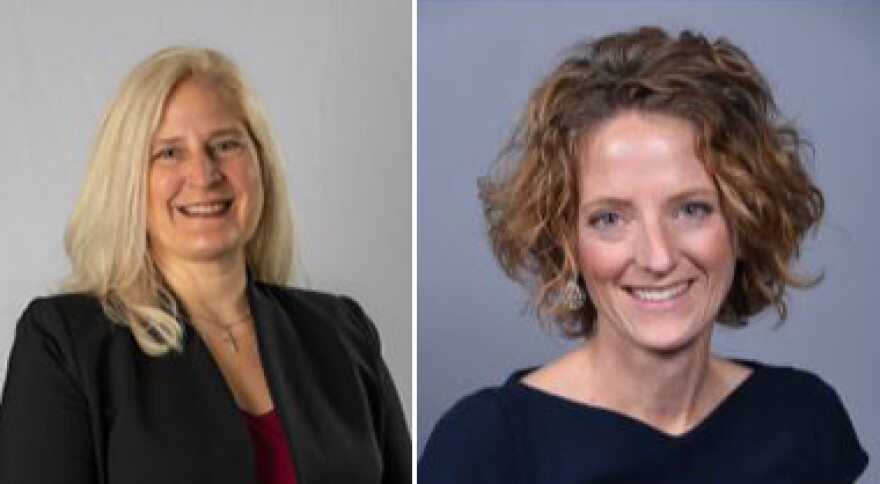 … Commercial real estate is a very long cycle. So for a long time, money has been cheap. We're starting to see that change, with new announcements on interest rates going up. But in the scheme of things, 6% or 7% isn't anywhere near the double digits it was back in the in the 80s.
There's a stability in the real estate market. When the stock market is uncertain, people tend to turn to real estate. So that's part of it.
And nationally, demand has been high. When you can't find a home, then all of a sudden the apartments start to fill up, so the vacancies are low. And when that happens, investors come out of the woodwork looking for multifamily investment. So anything from small four-unit (apartment buildings) up to the big, 50 or 100 units, which would be big in our market. So we just see a lot of investment activity both here locally and from regional and really national dollars coming into our market.
Industrial and warehouse space
Pritts: It's really tight. For many years, nothing happened in our industrial market. You had 20-, 50- 100,000 square feet, and it just sat there. And they would look at ways to divide it up, so we could at least some of it to a smaller user, a 10- or a 20,000-square-foot user.
Today, all that has been absorbed. Rivian leased that 500,000 feet (space) on the north side that sat there for many years just deteriorating, and then they added another 500,000. So in our market, that's a really large footprint for an industrial building. You drive up (Interstate) 55, and you have these million square foot warehouses. We don't have those here.
But the demand suddenly – in the last couple of years – for warehouse space has been driven some of it by Rivian, for sure. But some of it by online shopping, and the way we do business today is different than it was even five years ago. So there are numerous companies looking for warehouse industrial space. There is discussion about building it, but there are infrastructure issues – getting sewer and water up to a site to build warehouse space is a kind of a bigger undertaking and can run into the millions of dollars to make that happen. So it doesn't happen overnight.
Retail space in Bloomington-Normal
O'Neal-Rogozinski: In Bloomington, you have your albatross of Eastland Mall. And that's what everybody wants to focus on. But let's remove Eastland Mall from the conversation.
And if you really look at that, and you go up and down Veterans Parkway, there's vacancy, yes. However, what people don't recognize unless they're in the business is the length of time that deals take to actually see that open storefront.
We did the Aldi on South Veterans Parkway in front of Corporate South. That was an 18-month (deal) from our first interaction with Aldi to selling the ground. And then they had months after that to actually get that built and open. So it's a long process.
… But there's a lot of opportunity for new stuff. What we have always had a demand for is second-generation restaurant space. And there's just not a lot of it. You know, the Biaggi's on Veterans is sitting there for sale. But it is also been under contract for probably six months now. They're in the process of their due diligence. And so, it's there, everybody assumes it's sitting there available, but it's not available. If somebody calls me, I'll put them on a list. And if it doesn't sell, then I'll call them back. But right now, it's not available. We have a lot of things like that.
Office space
O'Neal-Rogozinski: Office is the one category that's a little bit more challenging. But we're seeing a lot of activity there too. A lot in the medical office field.
Pritts: There's movement in office. I think there's a lot of uncertainty. So companies are trying to find their way forward, like we all are, and they're trying to understand what hybrid work means and what work-at-home means. And so while the office market is the slowest of the commercial sectors, there's still activity in the office market.
New construction
O'Neal-Rogozinski: I think what we're gonna see here locally is the infill. And the redevelopments.
People still are going to want to maintain that Veterans Parkway-East Empire corridor of retail, for whatever reason. We are seeing some growth outside of that parameter. But historically, that's where everybody wants to be.
And as the homes grow, and maybe the office is changed, and people aren't coming into the Veterans corridor for work, we might be able to see some of that exterior growth. But I think it's a very long play still on that.
Commercial follows residential. So whatever happens in residential, commercial is going to trail that by six to nine months. So as long as residential continues on this path to fulfill our lack of homes here locally, as long as the jobs require those homes to be built, we will continue to grow and meet those needs as they as they develop.
Pritts: I feel like there is likely to be redevelopment more than new growth, and repurposing buildings. Starting with Eastland Mall. There's a lot of discussion about how to use that going forward. There's conversation in the works right now.
So will there be new construction? Yeah, I think there will be. I think a lot of that will be driven by multifamily housing. So if you were to ask me, What are they going to build most of? That would probably be my answer.
But I do think that we will see some construction for some industrial warehouse-type property, but I think we could potentially see new construction of restaurants, retail, as well, especially as you move east of Veterans Parkway.
We depend on your support to keep telling stories like this one. You – together with NPR donors across the country – create a more informed public. Fact by fact, story by story. Please take a moment to donate now and fund the local news our community needs. Your support truly makes a difference.