45 years later, the Normal firefighters strike is unlike any other
1
of
11
— Normal Firemen118 crop.jpg
Normal firefighters Ken Kerfoot in a McLean County sheriff's transport vehicle during the 1978 strike.
Courtesy / Mike Lass via Jim Schrepfer
2
of
11
— Normal Firemen047.jpg
Normal firefighter Ken Kerfoot with Pyro the fire department dog.
Courtesy / Mike Lass via Jim Schrepfer
3
of
11
— Normal Firemen096.jpg
Counting down the days of the 42-day jail sentence.
Courtesy / Mike Lass via Jim Schrepfer
4
of
11
— Normal Firemen107.jpg
Many Illinois State University students rallied around the Normal firefighters during the strike.
Courtesy / Mike Lass via Jim Schrepfer
5
of
11
— Normal Firemen112.jpg
The morning shift changes at Station #1 on Gregory Street – from one jailed crew to another – became a rallying point. The firefighters' families would show up to see their husband or father. So would other supporters.
Courtesy / Mike Lass via Jim Schrepfer
6
of
11
— Normal Firemen093.jpg
This editorial cartoon ran in Time magazine in April 1978.
Courtesy / Mike Lass via Jim Schrepfer
7
of
11
— Normal Firemen095.jpg
Normal Mayor Richard Godfrey, center, and the Normal Town Council during a meeting in 1978.
Courtesy / Mike Lass via Jim Schrepfer
8
of
11
— Normal Firemen090.jpg
Graffiti on the Illinois State University campus.
Courtesy / Mike Lass via Jim Schrepfer
9
of
11
— Normal Firemen088.jpg
There was a bit of numerical irony. Local 2442 was sent to jail – 24 people for 42 days.
Courtesy / Mike Lass via Jim Schrepfer
10
of
11
— Normal Firemen087.jpg
Courtesy / Mike Lass via Jim Schrepfer
11
of
11
— Normal Firemen017.jpg
Tensions escalated again on May 8, 1978, when the town announced it was hiring a private company called Eagle 911 Inc. to provide fire service.
Courtesy / Mike Lass via Jim Schrepfer
When Jeff Feasley was 23 years old, he went to jail. So did a lot of his friends.
"The lack of freedom is kind of mind-boggling," Feasley said.
Feasley didn't shoplift or beat anyone up or steal a car. He went to jail on purpose.
That purpose was winning a contract for his union. Feasley was one of two-dozen Normal firefighters who, in 1978, spent 42 days in jail as part of the longest firefighters' strike in history. If that sounds unusual – 24 firefighters being sentenced to jail – that's because it was unprecedented.
"We were just kind of forced out the door, and then they were going to use what (strategy) had worked before and crush us," Feasley said, "and it didn't work out that way."
The 56-day strike placed Normal in the national spotlight, during a tumultuous decade for public employee organizing. It also helped spark changes in state law to ensure it's not repeated today.
As the 45th anniversary of the strike nears, WGLT revisited the episode through interviews with those who were there and archival recordings. Here's the story of a strange strike in which everybody went to work, and everybody got paid, and everybody went to jail.
Pawns in a larger fight
The strike didn't just happen overnight.
The Town of Normal actually used volunteer firefighters until 1969, when the professional fire department was created. Normal was growing, and so was Illinois State University.
Jeff Feasley wanted in. He had learned the value of the fire service early in life, when his family's home caught fire two separate times.
"I came home from school and my house was gone," Feasley said.
Feasley joined the Normal Fire Department in January 1978, at age 23.
"When I was on there, everybody on the department, with a few exceptions, that was who they were. They were firefighters. To lose that job would be kind of like losing a part of your personal identity. It's that kind of a job. It becomes part of you," Feasley said.
The white-collar community of Normal was the least likely spot to find militant public employees, said Mike Matejka, a Bloomington-Normal labor history expert who literally wrote the book on firefighter unionization in Illinois.
"Bloomington had public employee unions since the 1930s. But Normal had not ever recognized a public employee union," Matejka said.
But in the 1970s, there was a great upsurge in public employee organizing nationally, including police, teachers, and firefighters, he said.
"Illinois was really an outlier. Because as an industrial state, Illinois had no public employee (collective bargaining) law. So it was very wide open," Matejka said.
By 1977, the Normal firefighters had organized and were looking to be recognized and negotiate their first contract with the town. They were getting frustrated with the town. But there was a big hang-up.
The firefighters wanted their officers, like captains and lieutenants, to be part of their bargaining unit. The town very much did not want that. It was a stalemate.
"Look at it from an employer's point of view: Do you want your management people to be part of the bargaining unit? Do you want your management people bargaining with management?" said Paul Harmon, who was a Town Council member in 1978 and would later become mayor. "Management personnel are supposed to be representing the employer, which is the town. They're not supposed to be representing the other side."
The union felt that, if so many employees were excluded, they wouldn't have any leverage in future contract disputes.
"As small as Normal's department was at the time, there wouldn't be much of a union if the working officers were not part of the bargaining unit," Matejka said.
They were at a logjam. And it was a bigger dispute than just a town and a small union.
The town had hired a Chicago law firm now known as Seyfarth Shaw. The firefighter union were represented by attorney Dale Berry and firebrand union representative Mike Lass.
"These two law firms had been banging heads in multiple places around the state," said Feasley. "And so essentially, the (town) and the union became pawns in this struggle between these two entities for dominance of the union (situation)."
The walkout
The Normal Firefighters Local 2442 took its first strike vote in February 1978, and actually walked out on Tuesday, March 21, 1978.
"They had no guarantee they would get their jobs back. They had kids. They had families. Some of them were newly married or engaged," said firefighter Jim Schrepfer, who joined the fire department at the height of the strike.
The firefighters walked out with their gear and two-way radios, Matejka said. They were able to respond to fire calls even on strike, said Feasley.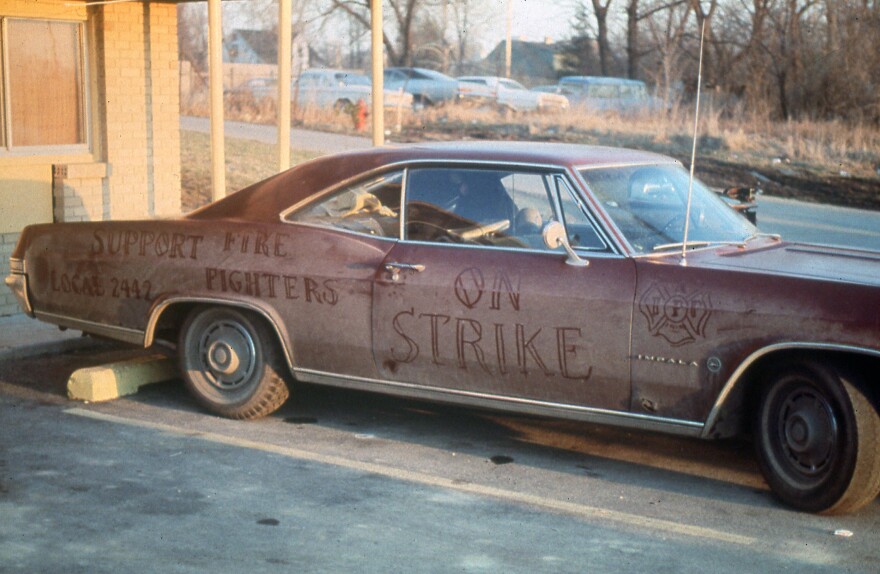 "If the firefighters go on strike, they can't withhold services, because the town would burn," said Schrepfer. "They were instances in the early 1970s where departments in Dayton and Kentucky actually did that, and the strike ended up badly for the firefighters."
The town went to court and sought a temporary injunction, to get the firefighters back at work. Judge Bill Caisley instead gave them a temporary restraining order against the strike.
"I was really quite concerned," Caisley said, "because at that time there were a lot of rooming houses in and around the (ISU) campus. These were frame houses … there were quite a number of them. They were built before the era of students coming with coffee makers and popcorn poppers and hair dryers. They were not wired for those types of things. I was concerned that we really did have a danger of cooking some students, and that would not be good."
Negotiations continued. Firefighters briefly returned to work, but then the strike resumed. The firefighters were now in contempt of court.
"So I revoked their probation. And I sentenced them to 42 days in the county jail," Caisley said. "And oh my goodness, there was weeping and wailing and gnashing of teeth. And these otherwise law-abiding people were sitting down in the county jail."
Feasley was in court that day.
"We were a little surprised," he said. "Because what they had done before, according to the Seyfarth Shaw playbook, was they locked up the negotiating team and put pressure on by doing that. But this was the first time they locked up everybody."
Caisley laid out his plan. The jailed firefighters would be split into two groups. Half would work on odd-numbered days, while the rest were in jail. Then they'd change places on even-numbered days. They would be paid throughout.
"It was some very grim days," Matejka said. "And 42 days in jail wore people down. They didn't get time with their families. They were sentenced to the same regiment in Sheriff John King's jail (as everyone else). Sheriff King was pretty infamous in the community for running a very, very tough jail, and there was no special treatment."
Paul Harmon, the Town Council member, said he remembered visiting them in jail.
"What really struck me was, like everybody in the county jail, their shoestrings were all taken away. They couldn't lace their shoes or anything. I found that sad," Harmon said.
Public perception
Yet the firefighters' story was starting to spread.
"My cousin lives in California," said Feasley, the firefighter. "And we were on the nightly news, like nationwide news. And she called my mother and goes, 'Why is Jeff on TV and why is he in jail?'"
Those morning shift changes at Station #1 on Gregory Street – from one jailed crew to another – became a rallying point. The firefighters' families would show up to see their husband or father. So would other supporters.
"That really helped keep everybody's mindset … it kept us from getting depressed. We weren't forgotten by the community. It was amazing," Feasley said. "Every day there was probably at least 70 to 80 people there. Somedays there were a couple hundred."
At a state firefighters union convention in Decatur that spring, striker Ken Kerfoot's wife, Donna, addressed the audience, according to Matejka's book.
"The Town thought they were dealing with weak and stupid women," she said. "Wrong! We wives are just as determined, intelligent and just as tough as our tough husbands."
In spring 1978, Steve Westerdahl was less than a year into his job as the Town of Normal's community development officer and personnel officer. He was in many of the bargaining sessions.
In the court of public opinion, there were roughly three sides, Westerdahl said.
"One side being, 'Who cares?' They weren't paying attention. Another side was full-time residents. Adults, working people, etc., who I think were more aligned behind the town. Certainly not 100%. And then the younger people – especially the ISU students – were fully behind the fire department," he said.
It led to some lively Town Council meetings. Outside one meeting in April 1978, those supporting the firefighters staged a theatrical production that took aim at town officials and their lawyers.
"If you went to a council meeting, you'd have thought the whole town was supporting the firefighters, because you had all these people just yelling and screaming," said Harmon. "One night there were two women in the back of the room. One was saying, 'You're all Nazis!' The other was going, 'You're all communists!' I wanted to stand up and say, 'We can't be both. Make a choice.'"
Dale Berry, the firefighters' attorney, worked the public-opinion angle too.
"The key to the jailhouse door is in the hands of the mayor and councilmen," Berry said during a courthouse press conference. "That key is in the form of a contract proposal that's fair, that's just, and can be accepted and ratified by the members of Local 2442. Until such a proposal is forthcoming, they'll remain in jail, I'm sure."
One misconception, Harmon said, is that the town asked for the firefighters to be jailed. It didn't.
"I'm sure Judge Caisley thought it was the right thing to do at the time, but in hindsight it was a critical mistake, because it sort of hardened the position totally," Harmon said.
Matejka agrees. He says their jailing made it a national issue.
"It was a rare night when one of the three TV networks wasn't reporting from Normal, Illinois," Matejka said. "So that really gave the firefighters the spirit that, 'Hey, we gotta do this now. We're in the spotlight to win this.'"
There was a bit of numerical irony. Local 2442 was sent to jail – 24 people for 42 days. Caisley said the 42-day term was intentional.
"42 days would get us past ISU's commencement," Caisley said. "And after that, the danger of a conflagration in Normal would decline greatly, because 20,000 students would be going home, and summer school enrollment was not that large at that time."
Caisley said he thought the dispute would get resolved during that 42-day window. And, he said, the firefighters could go back to work at any time and "purge" themselves of being in contempt.
"There was nothing that I could do. I tried everything. I got federal mediators. I had people with conversations in the governor's office," he said.
Tensions escalated again on May 8, 1978, when the town announced it was hiring a private company called Eagle 911 Inc. to provide fire service.
"Bringing strikebreakers in, that really fired up support with other labor groups in the community too," Matejka said. "This was seen as, 'You've really crossed the line now, Town of Normal, by bringing in replacement workers.'"
Westerdahl, the former town staffer, said the Eagle 911 move was a mistake.
"I think it was mostly, to be honest, a PR thing, to let the community know the fire department's in jail but we've hired an outside company here to put out fires. Which did not work out at all."
Westerdahl recalled a day when demonstrators gathered in front of Station #2 in opposition to the Eagle 911 "strikebreakers" inside. Normal's police chief, Richard McGuire, went outside to try and quell things. Westerdahl himself went to the station's back door and hustled the Eagle 911 guys out, drove them to the airport, and they flew away.
"It went on and on and on. We could not agree. Easter Sunday, 1978, I was in the McLean County jail negotiating with the bargaining team," Westerdahl said.
The firefighters' jail sentence ended May 11, 1978, and the strike was nearing its end. The town's moves to hire replacement firefighters hadn't worked. Even a newly hired probationary firefighter quickly joined the strike.
"After 50-plus days, and national publicity, and the town becoming this cause célèbre across the country – this is not the image the town wanted," Matejka said. "So I think with that, (the town) finally said, "OK, let's get back to the table.' And, really, resolving the issue of the bargaining unit moved along pretty quickly after that."
The town agreed that lieutenants and now captains could be part of the bargaining unit. The firefighters voted unanimously to approve the contract, which also included wage increases of 7 to 8 percent. The Town Council approved it hours later.
Monday, May 15, 1978. The 56-day strike was over.
Changing state law
Feasley, the young firefighter, said it was "absolutely" worth it.
"If we had not done that, and if we hadn't been successful, there is no one in Normal that would have the benefits they have, the salary they have, the working conditions they have. I mean, every department. What we did was, we set a standard," said Feasley, who is now retired.
More firefighter strikes would follow in other cities. Chicago's 1980 strike lasted 23 days.
"Normal was critical in waking up the Illinois legislature that we have to somehow come up with a solution to this," Matejka said.
They did. In 1986, Gov. Jim Thompson signed a bill to that entitled public employees to collective bargaining. (Illinois voters further codified that with last year's passage of the Workers' Rights Amendment.)
"When that was signed into law, we signed away our right to strike. Nowadays we can't strike," said Matt Hill, the current president of the Normal Firefighters Local 2442. "But it also gave us binding arbitration. So if we go into a contract negotiation and reach a stalemate, we can go to mediation, and then arbitration, and then whatever that arbitrator's ruling comes down with is our binding agreement," Hill said. "So, for every issue, large or small, there's a process for it."
These days, the union's relationship with the town is "pretty good," Hill said.
"In a perfect world, labor management is two equal sides sitting at the table, putting out small fires before they become big fires," Hill said. "Sometimes it works great. Sometimes it's a little bit contentious."
It's been 45 years since the firefighters went to jail, but the story is intentionally passed down to today's firefighters, Hill said. Labor history is actually a required part of the training new recruits receive at the state fire academy, Hill said, with the 1978 strike prominently featured.
"When I started, my first day on the job 15 years ago, my captain gave me the 'union talk.' He told me the stories," Hill said. "It resonated with me because I had worked at a non-union department before I came to Normal. I was making a lot less money and didn't have all the benefits. So as soon as I came in the town and saw that wow, this was going to be a much better place to work, and I've got more money, benefits, a pension … (the captain) said, 'This is why we have it."
The story lives on in other ways. Just last year, the Bloomington and Normal Trades and Labor Assembly launched a new honor called the "2442 Labor Militancy Award." It was awarded to the AFSCME Local 1110, which represents Illinois State University building and food service workers, for their contract fight last spring.
Union membership (as a share of workers) has declined nationally – from 20% of workers in 1983 to just 10% last year. Yet the labor movement has enjoyed a surge in popularity as of late, with workers at Starbucks, Amazon, and Chipotle unionizing in a demand for higher wages and better working conditions. Support for labor unions in the U.S. is at a 57-year high, according to a Gallup poll released last summer.
Matejka, the labor historian, said there's a lot to learn from a 45-year-old labor strike.
"The main lesson in this, or any labor struggle, is democracy. People need a voice on the job," Matejka said. "And many, many times, it comes down to respect. Sometimes it's wages and hours, but most frequently it's people feeling they're not heard and people wanting respect to where they're giving their life's energy."
We depend on your support to keep telling stories like this one. You – together with donors across the NPR Network – create a more informed public. Fact by fact, story by story. Please take a moment to donate now and fund the local news our community needs. Your support truly makes a difference.