Scott Black Won't Seek 3rd Term On Bloomington Council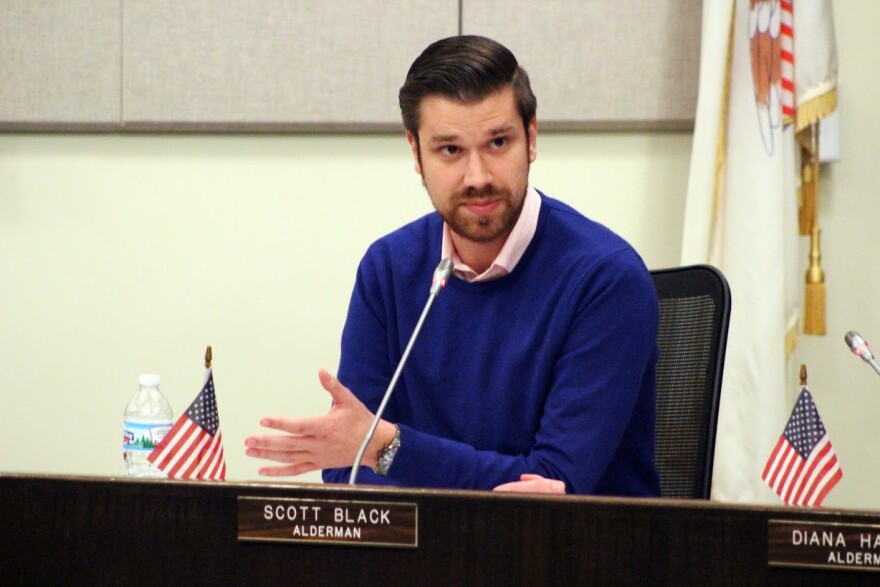 Scott Black has announced he won't be seeking a third term on the Bloomington City Council next year.
Black, 32, said he plans to continue volunteering with the West Bloomington Revitalization Project, but said this is right time for a "break" from public life.
"My wife Hollis and I just got married last year and the city is really well positioned for the future, so the timing is both personally and professionally for me to end by tenure on the city council," Black said.
Black represents Ward 7, which covers northwest Bloomington.
Black was first elected to the council in 2013 after serving parts of two terms on the McLean County Board.
Black called his time on the city council a "life-changing experience." Among the council's top accomplishments during his two terms, he cited: forming the city's police civilian review board, dedicating funding to mental health services in McLean County, implementing the Complete Streets and Bike Master Plan, and investing more in streets, sewers and sidewalks.
"By making my election intentions known now, I can focus on completing the work for critical issues in our neighborhood," Black said.
Black said in his remaining 10 months on the council, he wants to ensure the community emerges from the pandemic, secure funding for renovation of the aging O'Neil Pool and "modernize" the city's agreement with Connect Transit.
"That organization is a key component to our community both from an economic development prospective and a social perspective, and I want to see that updated before the end of the year," Black said.
No one has announced plans to run for the seat next April.
Editor's note: WGLT Program Director Mike McCurdy chairs the Connect Transit Board of Trustees.
We're living in unprecedented times when information changes by the minute. WGLT will continue to be here for you, keeping you up-to-date with the live, local and trusted news you need. Help ensure WGLT can continue with its in-depth and comprehensive COVID-19 coverage as the situation evolves by making a contribution.