Bloomington Council OKs City's First Pot Shop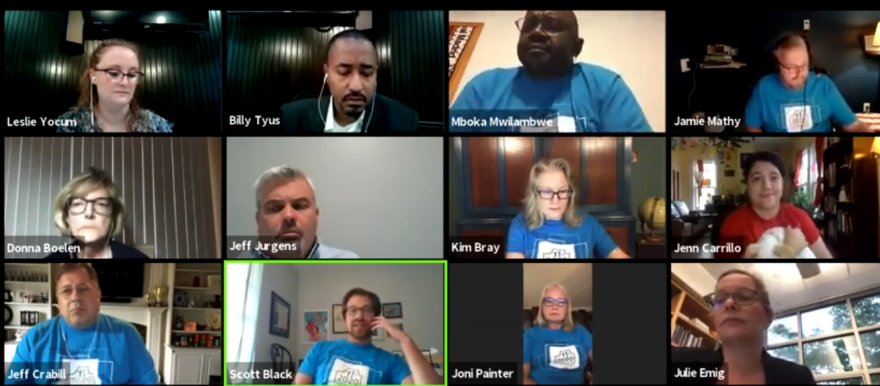 The Bloomington City Council on Monday overwhelmingly approved the first marijuana dispensary in the city, expected to open by December.
Jushi, the company that in May opened a similar cannabis shop in Normal, has applied for a state license for its second Beyond / Hello store in the Twin Cities, this one at 118 Keaton Place, along Veterans Parkway near G.E. Road. The site formerly housed a Slim Chickens franchise. Under current rules, the state issues no more than two such permits for the McLean County region.
Also at Monday's remote meeting, the council approved a 3% pay raise for City Manager Tim Gleason, OK'd a downtown task force report in the works since 2017, and formally approved a pandemic-related measure to ban downtown shuttles. Also known as party buses, the shuttles are popular with college students heading from Twin City campuses to downtown bars.
Ward 3 council member Mboka Mwilambwe served as mayor pro tem in Mayor Tari Renner's absence, reportedly due to Internet connectivity issues at his home.
Once unthinkable in central Illinois, pot shops increasingly are commonplace in U.S. cities, with changes such as Illinois' 2020 recreational marijuana law loosening rules surrounding the issue.
Jushi often experiences some initial hesitancy from communities, said the company's manager of new markets, Nathan Wang. After all, he told the council, legalization of marijuana and the opening of dispensaries is new to most locales, and can be sort of scary for some residents. But Jushi has proven those fears to be unfounded in its other locations, he said.
The Florida-based company has more than a dozen dispensaries in six states.
"After a few months, after we've established ourselves and had been able to prove that we are upstanding business members and are upstanding community members, the communities really welcomed us with open arms," he said.
During public comment at Monday night's meeting, resident Surena Fish asked the council to vote against the new dispensary, saying the Keaton Place location is near a restaurant and several dental offices, where children are present.
Shortly after, Wang responded to Fish's concerns, mentioning the company's proposal meets the ordinance's location requirements. He said he hasn't been able to get in contact with the dentist offices, but he did communicate with other nearby businesses, many of whose owners expressed excitement about additional business traffic coming to the area.
Wang earlier told WGLT that adult-use cannabis sales in Normal have been strong even with online and curbside limits because of the pandemic. The store in Normal offers limited in-store shopping for medical marijuana customers. The city collects a 3% tax on cannabis sales.
Wang dismissed a June 1 break-in at the Normal business as an anomaly, blaming it on the widespread social unrest after Minneapolis police officers killed George Floyd. Wang noted Jushi's strong security measures meant intruders didn't get past the lobby in the June incident.
"We do take safety, security, as well as our impact on the community and neighbors, extremely seriously," he said.
The special-use permit for Jushi passed with an 8-1 vote, with Mwilambwe opposing the measure. He said he didn't think it was the right time to open the marijuana dispensary.
The Bloomington council in December decided to allow cannabis dispensaries to operate in the city, but under strict zoning requirements. At the time, Mwilambwe had opposed the ordinance, saying he feared such businesses could hurt nearby property values. At that time, the council also voted against permitting on-site consumption, or any other type of marijuana business, such as growers, infusers or transporters.
Gleason pay raise
Also Monday, the council extended Gleason's contract two years, through 2024, and approved a 3% pay raise to just over $197,000. Council paperwork referenced Gleason's exemplary performance review.
Gleason was city manager in Decatur before he came to Bloomington in July 2018. Though not at Monday's meeting, Gleason shared a message through Deputy City Manager Billy Tyus that he was grateful for the council's continued trust in him.
Downtown Task Force report
The council voted unanimously 9-0 to adopt an updated 2020 Downtown Task Force report.
Tyus called the updated report an important step for Bloomington.
"It's really giving us a road map for where we're going downtown," in terms of taking development from conceptual ideas, to prioritized proposals, to budgeted items, he said. He said staff has updated the document with original recommendations the city already has implemented.
Ward 8 council member Jeff Crabill said furthering downtown development should be a concern for everyone in the Bloomington community, not just those living near the town's center.
First presented in 2017, the city council shelved the report at the time because the Bloomington Public Library resisted the proposed catalyst project--a new library and Connect Transit transfer center. Though those items remain in the 2020 report, council members agreed they only represented some ideas, and not concrete plans.
Ward 1 council member Jamie Mathy referenced that controversy when he emphasized there are no plans for the the Bloomington Public Library to move. He and several other council members said one task force report item to prioritize would be the aging Market Street Garage.
Council members als0 expressed a consensus that projects could be both large and bold, and smaller and incremental. Ward 4 alderwoman Julie Emig noted "A catalyst is a substance that increases rate (of development), but it's not necessarily a big boom."
Many council members praised Mathy for spearheading revival of the 3-year-old report.
Ward 7 council member Scott Black said he was pleased the report was back in action, calling its languishing political in nature. He added that as a taxpayer he finds it "outrageous how little we have developed downtown." Ward 6 alderwoman Jenn Carrillo echoed that sentiment, saying the city council's failure to adopt the report for years following its release was embarassing.
In other business, the council:
Voted to change contractors for the Miller Park Zoo's planned De Brazza's Plaza Monkey Exhibit, and to approve related financial matters. The city originally awarded a $445,101 contract to Diamond Design & Construction. However, when the city and the company ran into an issue with apprentice requirements, they jointly decided to rescind the award, according to city documents. The second lowest bid, at $534,015, was through N. Zobrist Construction, which now will handle the project.
Approved spending about $196,400 for a Lake Bloomington shoreline stabilization project near Camp Peairs, part of a joint agreement with Normal, McLean County and the McLean County Soil and Water Conservation District.
Authorized the city manager to extend electric and gas supply contracts through broker Stone River Group.
Agreed to suspend downtown shuttles, as part of an amendment to the city's local emergency ordinance, established to handle the pandemic's issues. Popular with weekend college students as a way to head to downtown bars en masse, the buses proved a concern with social distancing and increased numbers of COVID cases among college students, according to Tyus. As part of the shuttle suspension vote, council members had a lengthy discussion about how the council might better address the public health crisis. Tyus said he'll confer with the city's legal team about the possible range of COVID-related policies.
WGLT depends on financial support from users to bring you stories and interviews like this one. As someone who values experienced, knowledgeable, and award-winning journalists covering meaningful stories in central Illinois, please consider making a contribution.