WGLT's reporting on the coronavirus pandemic, which began in McLean County in March 2020.
Demand For COVID Vaccine Slows Down In McLean County
UPDATED 4:00 P.M. | McLean County health officials hope walk-in, evening and drive-thru vaccination clinics will help get more people vaccinated against COVID-19 as demand for shots is slowing down. Vaccinations fell nearly 33% from the week of April 19 to the week of April 26 in McLean County, according to data from the Illinois Department of Public Health (IDPH). The state reports 121,500 COVID vaccines have been put in arms in McLean County. The county's rate of fully vaccinated (30.8%) trails the state rate (31.6%).
County health department public affairs coordinator Marianne Manko said the department is trying to use all forms communication, including word of mouth, to get people to sign up for a vaccination to get the area closer to herd immunity.
"We call them the 'wait-and-see-ers' and there are a lot of people out there who are waiting to see," Manko said. "Our question is what are you waiting to see? We have been doing vaccines for months. We have literally millions of people who have had vaccines at this point.
"We need to get to people who don't normally listen to the news. They don't normally listen to the radio or TV, (they) are not newspaper readers, how can we get to that group?"
State officials also have raised concerns about a plateau in vaccine demand long before the state reaches herd immunity.
The health department has started to take vaccinations without an appointment. The county held its first evening clinic on Thursday at Grossinger Motors Arena and will host a drive-thruclinic on from 10 a.m.-2:45 p.m. Saturday at Midwest Food Bank in Normal.
McLean County health officials also are working to overcome a second type of COVID vaccine hesitancy -- those who won't get the second dose. Manko said county staff has noticed an increase in vaccine cancellations.
"For some people, it's just an inconvenience for them to be able to make the second appointment. Some people believe they just need the first one and that they are pretty much well covered without really understanding what full vaccination is," Manko said.
Discarded vaccines
Jessica McKnight administrator of the McLean County Health Department (MCHD), said the county has had to dispose of some COVID vaccine doses because demand has dropped and more people are canceling their second shots.
"It does happen unfortunately because those doses have a time limit on them," McKnight said. "At the end of clinics, we are going to do everything possible to try to prevent it, but it will happen, unfortunately."
McKnight said there have been "not many" discarded doses. The Moderna and Pfizer vaccines are kept in freezing cold temperatures and must be used quickly once they are taken out of storage.
According to IDPH, more than 8,000 doses statewide have been scrapped. That's about one for every 1,100 doses administered.
McKnight said the new walk-in appointments have helped the department use some additional doses, but there haven't been many walk-ins in the first week the county offered that option.
Hospitalizations miscount
On another matter, McKnight said she doesn't have a good explanation for for why the department's COVID hospitalization data wasn't properly updated for weeks. Dozens of hospital discharges were excluded from the data, making it appear as though the county had a record number of people in the hospital for COVID-19.
"With technology being an agent that we use to help us track, there's always the possibility that if one little thing doesn't get clicked then you may miss out of the data," said McKnight , adding the department decided to audit the data because 61 hospitalizations seemed high.
"I don't have a great answer, it's just that when we have had time, we have been able to go back and drill down into some data," McKnight said.
The county now reports 22 COVID hospitalizations.
Last month, the health department revealed an audit turned up an additional 30 COVID-related deaths.
McKnight said much of the county's data monitoring with COVID-19 is new and being implemented "on the fly," adding the department has tried to be as transparent with the public as possible.
New cases
Weekly coronavirus cases in McLean County have fallen to their lowest level since March, while children continue to lead in new cases.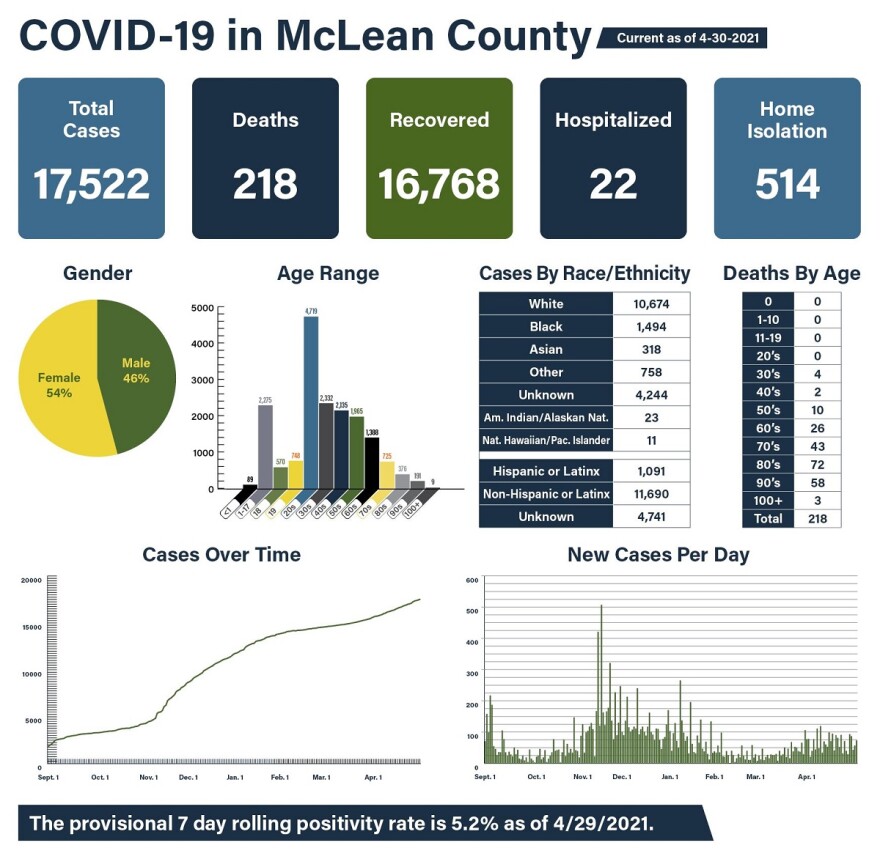 MCHD reported 73 new coronavirus cases on Friday. Of the 422 new cases reported this week, 103 of them are people 17 and under. People under age 40 make up nearly 70% of new cases.
The county saw a drop in COVID hospitalizations from 25 to 22. Bloomington-Normal hospitals report 95% of their beds are full and 77% of ICU beds are in use. OSF St. Joseph Medical Center and Carle BroMenn Medical Center report they have 31 COVID patients under their care.
MCHD said 514 people are isolating at home. That's up from 449 on Thursday. The county reported 16,768 people have been released from quarantine and are considered recovered.
The county's seven-day COVID testing positivity rate held at 5.2% and the cumulative positivity rate remains at 5.5%, based on more than 318,800 tests conducted since the start of the pandemic.
McLean County's COVID death toll remains 218.
Community support is the greatest funding source for WGLT. Donations from listeners and readers means local news is available to everyone as a public service. Join the village that powers public media with your contribution.