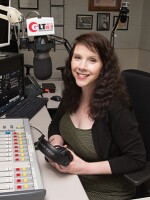 Laura Kennedy
Correspondent
Reporter, content producer and former All Things Considered host, Laura Kennedy is a native of the Midwest who occasionally affects an English accent just for the heck of it. Related to two U.S. presidents, Kennedy appalled her family by going into show business.
Astonishingly pale and a tad goth, Kennedy tends to sizzle if left in the sun too long.
In her spare time Kennedy nurtures her worrisome passion for cashmere, plays zither in her imaginary garage band, Dowager Hump, and sits slack-jawed in front of the television watching Turner Classic Movies.
Kennedy retired from GLT in 2018 and later returned as a correspondent.
Artistic inspiration can spring from many things, including very difficult questions. The community art show, "What's So Good About Good Friday?" explores…

The small details of everyday domestic life never escape artist Ashley Jude Jonas. Her appreciation of delicate objects, fleeting light, and momentary…

In 1927, Charles Lindbergh completed the first solo flight across the Atlantic. President Clavin Coolidge announced he would not run for re-election.…

A Chicago-based artist ventured into the wild to gather inspiration for her latest exhibition. Plumbing the depths of lakes around the world,…

Poetry and photography meet in a new Twin City exhibition that highlights the struggles of refugees through the story of a German Jewish intellectual who,…

It's brutally cold outside. There's a foot of snow adding to the misery. Oh, and the pandemic. Charming. But one local artist steadfastly has embraced an…

A venerable member of the Bloomington-Normal theater community is branching out with a new role that, on its surface, seems like something brand new. But…

Last year, the Illinois Shakespeare Festival was obliged to pull the plug on its season due to the pandemic.The hope was the already-planned 2020 season…

At the start of the new semester at Illinois Wesleyan University, Carmen Lozar was faced with a quandary. As the director of galleries at IWU, Lozar…

An exotic gift from a kind stranger...an eccentric and formidable grandparent...the jaw-dropping riches of another culture... These are the memories that…