Clock Is Ticking On Debate Over Requiring COVID Vaccination At ISU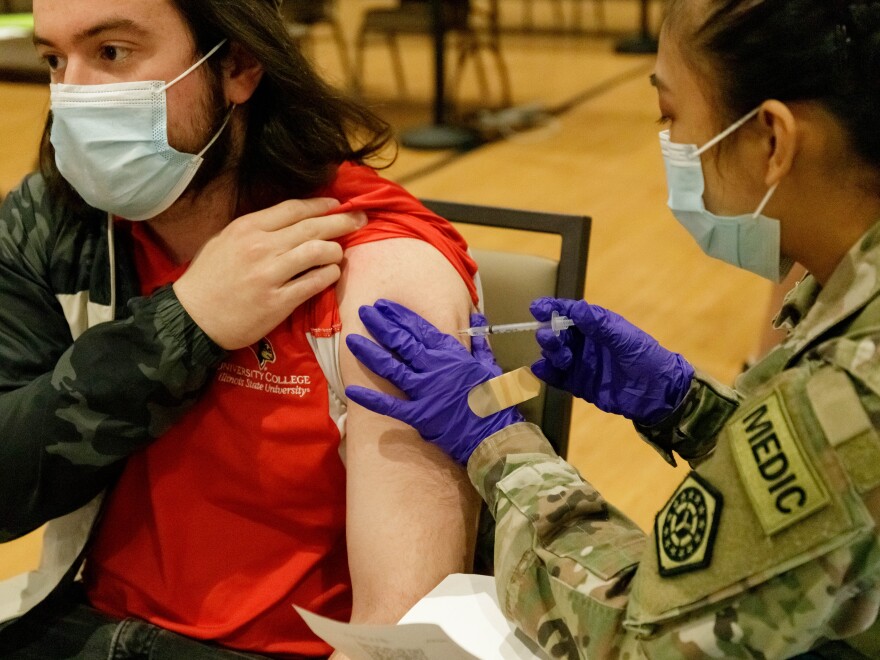 With roughly a month and a half left until college students return to their campuses, universities must soon decide whether they will require them to be fully vaccinated against COVID-19.
Illinois State University President Larry Dietz has refrained from mandating vaccines for students, despite dozens of other public and private institutions doing so. The outgoing president does not want to initiate a conflict with the Illinois Board of Higher Education or the Illinois Department of Public Health. Outside the discussions between institutions in Illinois, students at ISU have begun voicing their stances on whether vaccines should be mandated.
Josh Bender is the head of College Republicans and vice president of Turning Point U.S.A. at ISU. The history education major has engaged in heated discussions with the Student Government Association (SGA), particularly senator Grant Chassey, after the senator introduced a policy supporting mandated vaccines for ISU students.
"Senator Chassey put out a resolution that the SGA voted on. They're in support of mandating the vaccine. I then did more research, wrote a statement and sent it out. Instead of saying criticism, the senator said it was an attack on him and the scientific community," said Bender in describing his discourse with the Student Government Association.
Bender said he opposes the idea of a mandated vaccine for ISU students. To him, a mandated vaccine would violate the personal liberties of students, adding college students should have little to fear from COVID-19, considering the type of individual who he says typically succumbs to the virus.
"In a weird way, I think of it like the free market. You put the idea out there and people have the choice. If someone chooses to not get the vaccine and they die, they knew the consequences and accepted them ... Often what we are seeing with the COVID deaths is people over 65 years old. There are one to two pre-existing conditions. They tend to be overweight or be smokers," said Bender.
Death is not only negative health outcome related to COVID. So-called long haulers are dealing with complications months after contracting the virus.
Those support mandating a vaccine argue those who are vulnerable should still be protected from those who are unlikely to suffer severe health consequences. They say the point of requiring college students to have a vaccine is to safeguard those who have pre-existing conditions.
Kate Karvelis will begin her sophomore year at ISU in August. She said she passionately feels vaccines should be mandated because public health outweighs individual rights.
"All through the 12th grade, all these vaccines are required. Coming to college, all these vaccines are required. Why is this any different?" she asked.
There is a difference between a vaccine approved for emergency use versus a fully FDA-approved vaccine that has been around for over 10 years, said Bender, who claims the short amount of time any COVID-19 vaccine has been in circulation means we do not know the long-term effects of the vaccine — a claim health experts disagree with.
Karvelis also disagrees with that, and she has confidence in the vaccines because of their safety record thus far, and the way in which the vaccines were developed is secure.
"They were able to do it based on other vaccines. They used a proven vaccine method. It was also able to go by so fast because the funding for it was different. It had government funding whereas most vaccines do not," said Karvelis.
Public good vs. personal rights aside, there also are practical barriers.
Dietz has suggested the issue may ultimately end up in court.
The administrative hurdles are what is on the mind of Haley Roiland, a resident assistant of Watterson Towers.
"I think we should. However, I believe it depends on what the state says. I do not think we ourselves can enforce it because we are a state school, and we get state funding. I would like it, but I do not think it is possible to do so," said Roiland, in describing the reality of mandating a vaccine.
The University of Illinois this week announced a vaccine mandate for students on campus in the fall term. That has increased pressure on other Illinois colleges and universities to decide whether or not to mandate. Non-vaccinated students would need notice of at least a month before school starts to make sure they receive shots before classes begin.
That window is rapidly closing.
As variants of the virus continue to spread and research on the necessity of booster shots continues, the debate over public health and personal liberties is not likely to go away any time soon.
We depend on your support to keep telling stories like this one. You – together with donors across the NPR Network – create a more informed public. Fact by fact, story by story. Please take a moment to donate now and fund the local news our community needs. Your support truly makes a difference.