B-N Gone To The Cats: Cat Show Returns To Interstate Center
Vicky Edwards with her 14-month-old Maine Coon, Brutus, at the Cat Fanciers' Association All Breed Cat Show at the Interstate Center in Bloomington.";
Jeff Smudde / WGLT
Vicky Edwards with her 14-month-old Maine Coon, Brutus, at the Cat Fanciers' Association All Breed Cat Show at the Interstate Center in Bloomington.";
Jeff Smudde / WGLT
Mia Xu with her Ragdoll, Rosie, at the Cat Fanciers' Association All Breed Cat Show at the Interstate Center in Bloomington.";
Jeff Smudde / WGLT
Mia Xu with her Ragdoll, Rosie, at the Cat Fanciers' Association All Breed Cat Show at the Interstate Center in Bloomington.";
Jeff Smudde / WGLT
Ocicat Lord Max travelled with his owner Roger Brown to compete in the at the Cat Fanciers' Association All Breed Cat Show at the Interstate Center in Bloomington.";
Jeff Smudde / WGLT
Ocicat Lord Max travelled with his owner Roger Brown to compete in the at the Cat Fanciers' Association All Breed Cat Show at the Interstate Center in Bloomington.";
Jeff Smudde / WGLT
The estimated direct economic impact of hosting the Cat Fanciers' Association All Breed Cat Show in Bloomington-Normal is $22,600.";
Jeff Smudde / WGLT
The estimated direct economic impact of hosting the Cat Fanciers' Association All Breed Cat Show in Bloomington-Normal is $22,600.";
Jeff Smudde / WGLT
More than 160 cats from around the United States traveled to the Bloomington-Normal area to compete in the Cat Fanciers' Association All Breed Cat Show.";
Jeff Smudde / WGLT
More than 160 cats from around the United States traveled to the Bloomington-Normal area to compete in the Cat Fanciers' Association All Breed Cat Show.";
Jeff Smudde / WGLT
More than 160 cats from around the United States traveled to the Bloomington-Normal area to compete in the Cat Fanciers' Association All Breed Cat Show.";
Jeff Smudde / WGLT
More than 160 cats from around the United States traveled to the Bloomington-Normal area to compete in the Cat Fanciers' Association All Breed Cat Show.";
Jeff Smudde / WGLT
More than 160 cats from around the United States traveled to the Bloomington-Normal area to compete in the Cat Fanciers' Association All Breed Cat Show.";
Jeff Smudde / WGLT
More than 160 cats from around the United States traveled to the Bloomington-Normal area to compete in the Cat Fanciers' Association All Breed Cat Show.";
Jeff Smudde / WGLT
More than 160 cats from around the United States traveled to the Bloomington-Normal area to compete in the Cat Fanciers' Association All Breed Cat Show.";
Jeff Smudde / WGLT
More than 160 cats from around the United States traveled to the Bloomington-Normal area to compete in the Cat Fanciers' Association All Breed Cat Show.";
Jeff Smudde / WGLT
Internationally recognized judges officiate and make presentations of more than 30 different breeds of cats in the 8-ring show.
Jeff Smudde / WGLT
Internationally recognized judges officiate and make presentations of more than 30 different breeds of cats in the 8-ring show.
Jeff Smudde / WGLT
Vicky Edwards travelled over 800 miles from Arlington, Texas, to show her 14-month-old Maine Coon, Brutus, at the Cat Fanciers' Association All Breed Cat Show at the Interstate Center in Bloomington this weekend.
After Brutus took a regional win last year, and defeated 200 cats to become a grand champion before that, she hopes he can score a national win this year.
Edwards and Brutus are competing with 160 other cats and 30 different breeds this weekend.
"He has a brother and sister that have, so we hope he follows in the family footsteps and does that," she said.
Edwards said at 19 pounds and counting, Brutus like other Maine Coons is truly a gentle giant.
"They're affectionate and loving, it would be hard not to love a Maine Coon, I think," she said. "They're extroverts, they just love everybody, but they're pretty laid back."
While Edwards and other owners and breeders spend plenty of time and money to participate in the hopes that their cat will win it all, there's no prize money to take home.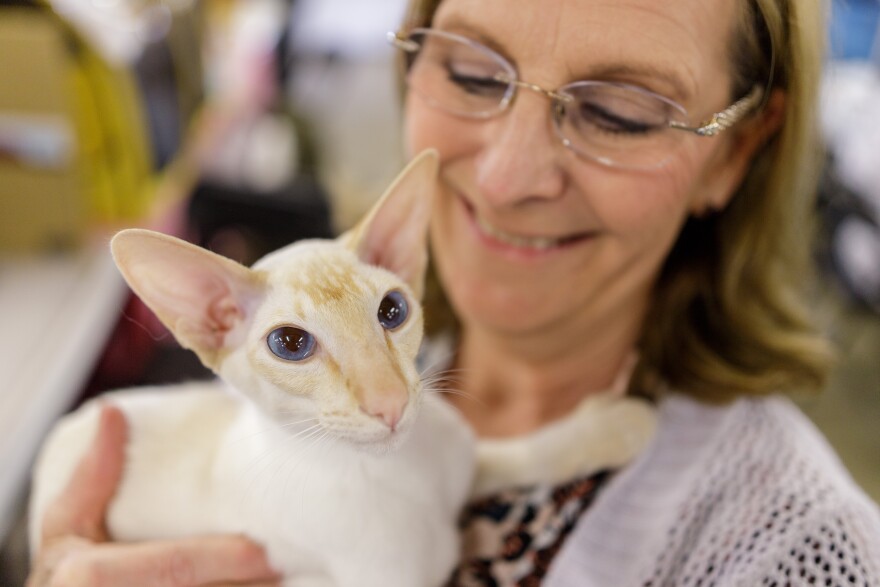 Cat Fanciers Association (CFA) Midwest Regional Director Mary Auth explained that her group is a 501(c)4 not-for-profit, and all proceeds from this weekend's event will be used to cover expenses, with any remaining money donated to the Humane Society of Central Illinois.
Instead, the owners and breeders showing at competitions are in it for the love of people—and of course, cats.
Roger Brown used to show dogs before he and his wife attended a cat show, where they first laid eyes on the wild-looking Ocicat.
"We just fell in love with the little spotted cats, and we decided to get some and show them," he said. He brought three Ocicats with him Saturday from Elkhorn, Neb., including 1-year-olds Tina and one-time national winner Lord Max.
"It's a little better at a cat show, because each ring is like a separate show," Brown explained. This weekend's show has eight rings, with essentially eight chances to rack up enough points to place in one of the four categories: championship, premiership, household pets and kittens.
Annette Wilson has been judging cat shows since 1987, but attended Saturday's show as an owner. She explained the judges are looking for how well each cat fits the association's standard for their breed.
"So if I were judging say a Maine Coon, I'd be judging that particular exhibit against the standard of perfection, and it's divided into confirmation, or type and structure, and coat and color, and different points are allotted depending on what's weighted more," she said.
The cat that best meets the standard wins the breed. Final winners are decided in a similar way: "Does this Maine Coon meet the Maine Coon standard better than this Persian meets the Persian standard?" Wilson said.
Wilson said it takes a lot of time and effort to become a judge, with several steps required before even applying to the judging program. But it's all worth it to be able to handle scores of cats at each competition.
"And last week I was judging in Hong Kong, so I get to travel the world and meet Cat Fanciers all over the world, and that really makes it worthwhile," she said.
Despite the stereotype that cats and their owners keep to themselves, Wilson said showing is "definitely a social hobby. When you start doing it, even if your cat doesn't win, if you meet some friends for dinner and share a bottle of wine, you had a good weekend."
"You're basically socializing across the country or in your region with people who have a common interest, and of course we can talk about cats all day long, and that makes it fun," she added.
The shows are also a draw for cat lovers of all ages.
Bloomington residents Rachel Carpenter and 7-year-old daughter Alida Carpenter included the show in their "girls weekend" plans.
"Alida is passionate about cats," said Rachel. "We thought today would be a great day to come and explore the cats, learn all about the different species, she can tell me so much more than I even know. She loves to read the books about cats, and so we figured we've only seen pictures of some of these breeds, we'd really like to see the real thing."
Alida was on the lookout for one of her favorite cats.
"Well one of my favorite breeds of cat is the bengal cat, because they look really nice," she said. "They usually have spots, and sometimes also have stripes."
Diane and Steve Kaz were in town from Brookfield when some friends asked if they'd like to attend the show. The retired couple had never been to a cat show before, but Diane had watched dog shows on TV, and the former cat owners thought they might enjoy it.
Steve said the show surpassed their expectations.
"I am amazed at how close-up you can come, so some people actually let you talk and pet their cat and they're very open about it," he said. "I'm amazed at how calm the animals are."
Diane said the experience has been educational, too.
"It's fun, they're beautiful cats, we have never seen so many varieties, that's what made it the most interesting," she said. "I think I know more about (now) cats than I ever did," she said.
"And then we were watching some of the judging, and we found that fascinating, how they judge on different characteristics," Steve said. "And they're very calm about the whole thing."
"It makes us want to get a cat!" he added.
The Cat Fanciers' Association All Breed Cat Show runs until 3 p.m. Saturday and from 9 a.m. to 3 p.m. Sunday at the Interstate Center in Bloomington. Admission is $5 for adults and $3 for senior citizens and children ages 12 and under, with free admission for kids under 3 years old.
WGLT depends on financial support from users to bring you stories and interviews like this one. As someone who values experienced, knowledgeable, and award-winning journalists covering meaningful stories in central Illinois, please consider making a contribution.