McLean County's redistricting committees came up with 3 maps that look pretty similar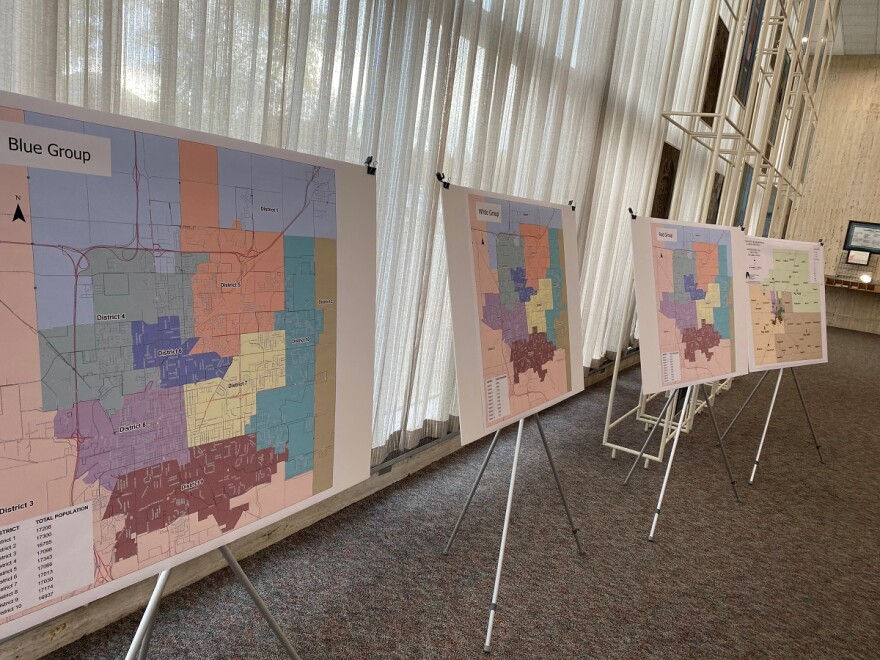 The maps that show who will represent McLean County residents in county government will likely look very different next year.
A big reason why is the county changed the way it drew the maps.
McLean County draws new political maps that set County Board districts once a decade after each census. Redistricting got more attention this year as Democrats try to erase the majority Republicans have held for decades.
After accusations of backroom deals surfaced, County Board Chair John McIntyre named three retired chief judges from the 11th Judicial Circuit to lead a committee of two dozen residents from across the community who would draw the maps, rather than the politicians picking their own voters.
McIntyre called it the "Red, White and Blue" redistricting advisory group. The County Board, however, will still have final say on what map gets adopted.
Retired judge John Freese led the Blue team.
"This is by far the most representative community group that has ever been brought together to consider these kinds of issues in McLean County, at least based on my experience," Freese said.
Freese served on the County Board 40 years ago, the last time the county made major changes to its board structure. It added a 10th district and cut the size of the board from 27 to 20.
This time, each group held several meetings to shape the county's 10 districts with several goals in mind, to avoid cutting municipalities or precincts as much as possible, to make the districts nearly equal in population and to make them more compact.
Perhaps the worst example of this in the current maps is in District 9. The district covers parts of southwest Bloomington, southeast Bloomington, some rural areas on both sides and it barely connects in the middle. Other districts also have a blend of urban and rural districts sometimes with oddly-shaped configurations.
The county's IT staff used 2020 census data and software to develop an outline of what the new maps could look like. The county didn't have that software a decade ago and committee members say it was a huge help.
Gary Tipsord, superintendent of LeRoy schools, served on the Red team. He said the software was so good in coming up with a working draft, he wondered why were the committees even needed.
"I enjoy meetings as much as anybody else, but if the objective is population, and the process has been done well… unless there is a secondary objective of similar representation," Tipsord said.
What similar representation looks like was a key question for some on the panel. Several committee members asked whether they would get data on race and socioeconomics. That census data exists, but IT staff said it's not in the software.
Greg Shaw is a political science professor at Illinois Wesleyan University. He also served on the Red team. He said the data would be helpful to ensure they aren't splitting minority voters into different districts.
"(If) we did that in order to fragment their voting power, their likelihood of getting representation that looks like them -- that is descriptive representation, we would still achieve correct apportionment, but we would be devious because we were splitting up that racial bloc," Shaw said.
"The words Republican or Democrat never came up in the entirety of our discussion."

Retired judge Kevin Fitzgerald
McLean County First Assistant State's Attorney Christopher Spanos replied to committee members that diversity and socioeconomic data wasn't necessary. He said they should instead focus on the concept of one-person-one-vote. He said that's the best way to ensure minorities and special interests are protected.
"You have not engaged in any conversation in this committee with respect to drawing districts based on race, based on protected interest groups," Spanos said.
Each group met for several hours over three weeks and crafted three maps that look very similar. In each map, the 10 County Board districts are more compact than they are currently and there's less rural territory added to mostly urban districts serving Bloomington-Normal.
Retired judge Elizabeth Robb led the Red team. Robb said the maps are similar because they used the same data and had the same goal in mind, to make the 10 districts as compact as possible and have nearly equal populations.
"It really came down to – in my group – just trying to make the actual districts … square them up if you could in certain places," Robb said.
Robb said the group did its work without any political interference from the outside or from within.
Retired judge Kevin Fitzgerald led the White team. He said his group did what it was supposed to do, take politics out of the county's map-making.
"The words Republican or Democrat never came up in the entirety of our discussion," Fitzgerald said. "There was no political portion of this at all."
Ultimately, Republicans and Democrats will decide which map the county will use to shape County Board districts for the next decade.
The county will hold a public hearing on the proposed maps 7 p.m. Monday at Heartland Community College's Astroth Community Education Center. The three groups will listen to public feedback and they can make changes to the maps if they wish.
The County Board will vote on the maps at its Nov. 16 meeting. The maps would be used starting with the 2022 elections.
Phani Aytam served on the Red team. He chairs the United Way of McLean County Board. Aytam said the public may have questions about how they ended up in another district. He said the 24 volunteer committee members can also serve as ambassadors for the county's revamped mapmaking effort.
"I see this as a two-way street. As much as it was an input process, I also see the 20-(plus) people who were recruited to this process could be advocates to go out into the community to tell them how this process was done," Aytam said.
Advisory team member Greg Shaw said he hopes the committee's work will set a precedent for how the county will draw political maps a decade from now.
"I want us to be a model of how citizens do this," Shaw told the committee.
McLean County did not have to make major shifts to account for population changes over the last decade. McLean County's population grew less than 1%. Most of the growth was in the City of Bloomington. Its population increased 2.6% since 2010.
We depend on your support to keep telling stories like this one. You – together with NPR donors across the country – create a more informed public. Fact by fact, story by story. Please take a moment to donate now and fund the local news our community needs. Your support truly makes a difference.